Matthew Bellows founded Yesware because he wanted to give salespeople an easier way to keep track of leads and close more deals.
Salespeople are the very core of every small business, but rarely are they the center of attention. Matthew Bellows founded Yesware because he wanted to give salespeople an easier way to keep track of leads and the ability to close more deals. Let's hear his thoughts and ideas behind the creation of this very useful tool.
Q

: Thanks for this Interview Matthew I know salespeople will sure appreciate it.
Matthew:  My pleasure! Thanks for your interest in Yesware.
Q

: Your company Yesware was design specifically for salespeople so today we'll talk about Sales and Marketing. – Briefly tell us the startup story behind Yesware and what exactly does it do?
Matthew:  My co-founders and I started Yesware because we saw that salespeople were incredibly underserved when it comes to technology. Customer Relationship Management (CRM) is a $9 billion business, but precious little of that investment is aimed at helping a salesperson make more money. We started Yesware to do exactly that.
We've started in email (first in Gmail, now also in the next version of Outlook) because email is a business-critical tool for salespeople everywhere. Email is also an incredible data store for both historical and real-time business activity. Plus, we want Yesware to work where people already do – systems that make people change their work patterns are really hard to adopt.
Our email service centers around three sales activities: sending and responding to email with a sales template library, copying to your CRM with a very easy to use button, and getting feedback from your prospects with email tracking.
We use a freemium model, so if this makes sense to any of your readers, they are very welcome to use Yesware for free.
Q

: How many people are currently using Yesware, and how do you plan to keep growing?
Matthew:  We're coming up on 60,000 registered professionals using Yesware now, which is pretty exciting given that we've spent almost nothing on marketing. Growing the Yesware user base has three aspects:
1) Keep making a great free product – The free Yesware users bring all kinds of non-monetary benefits to the project, so we'll always keep improving this aspect of our product.
2) Build our marketing muscle – Some people would argue that this is overdue, but we've really wanted to get the product right before spending money on marketing. And we'll always maintain a strong product emphasis. The day our marketing efforts bring more new users than our product itself does is the day we give half the marketing budget to the product team. But right now we're so far on the product side of the scale… there's a lot of good that more marketing efforts can do.
3) Expand our platform reach – We started with supporting Google Chrome only. Then we added Firefox. Most recently we added support for Outlook 13. We'll keep expanding our platform coverage in the future, which will make Yesware available to many millions more salespeople than we currently are.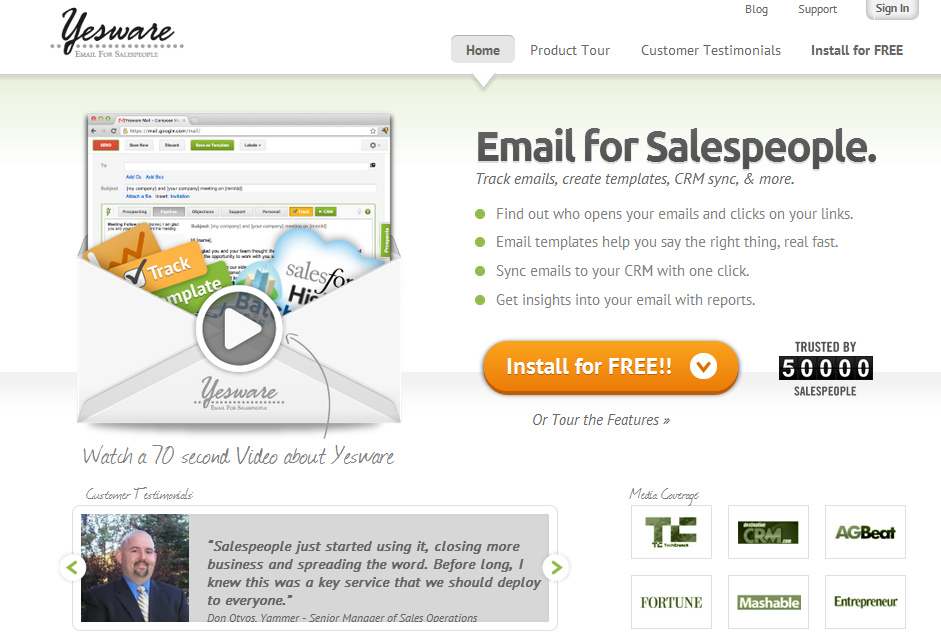 Q

: Yesware have been feature on some of the most popular tech blogs and magazines including Business Insider & TechCrunch. In your opinion what's the key ingredient to getting press coverage for new startups?
Matthew:  As much as I'd like to say it's all about having a great product, it's really about having some indication of success. For consumer applications, that's measured in having many millions of users. For business applications, you initially earn press attention by having high profile investors or, in rarer cases, getting big customer wins. Every once in a while you see the startup press covering a great new product or feature, but that's rare.
But to put press coverage in perspective – while it's gratifying and kind of exciting – it's just not business critical. Getting press coverage should be one of the last things on your list of things to do to start your company.
Q

: Share a few tips and Advice for small businesses on how to increase sales?
Matthew: There are two ways to increase sales –
1) Have a differentiated product which meets your customer need in a new and important way: In this scenario, your challenge is finding effective distribution channels, which, for a new product category, can be tough.
2) Out-compete other companies in an established market: I really don't know how to do this, so I'm not going to say anything else about it.
In either scenario, knowing more about your customers than your competition does is a winning strategy.  
Q

: Starting out what the worst mistake you made as entrepreneur, and what did you learn from it?
Matthew:  In my previous company (which Cashman and I also co-founded) I once tried to subcontract out a lucrative contract, only to have the sub-contractor try go direct and cut me out of the deal. There were all kinds of lessons to be learned from that exceptionally painful experience. But the biggest one is to be honest and above-board at all times, especially with your customers. We salvaged the customer relationship finally, but the situation took a big toll, and a long time to rebuild trust.
Q

: What's best thing about running a tech company, and what's the worst?
Matthew:  The best thing about running a tech company is getting to spend time with all these smart people. The Yesware team exudes intelligence, maturity and sense-of-humor. I love spending time with them. They make me smarter every day. And having no inventory. I love having no inventory.
The worst thing about running a tech company is rarely getting to be the smartest guy in the room. But I've come to terms with that.
Q

: What was the best entrepreneurial advice you have ever been given and by whom?
Matthew:  In our first Yesware board meeting Brad Feld said "Slow down to speed up." In the context of a product strategy decision, or almost any decision really, it's better to measure twice and cut once. Make a deliberate decision that everyone is on board with, and then execute like hell on it. People are smart animals. Not taking advantage of that intelligence when making important decisions is ignoring our core strength.
Q: 

Can you recommend any good books for salespeople?
Matthew:  My favorite book for salespeople isn't really about selling…"Turning the Mind into an Ally"  by Sakyong Mipham is a great book for people everywhere, and it has specific application for salespeople. We work directly people, so our ability to be allied with our thoughts and relate skillfully with others is really really important.
For more sales-specific content, I love the blogs by Dan Waldschmidt (http://danwaldschmidt.com/blog), Trish Bertuzzi (http://blog.bridgegroupinc.com/) and Rain Today (http://www.raintoday.com/)
Q

: What is your favorite sales or entrepreneurship quote?
Matthew:  "Chaos should be regarded as extremely good news." – Chogyam Trungpa, Rinpoche
3 More Sales Quotes
 Nothing happens until somebody sells something. " –Arthur Motley Sales are contingent upon the attitude of the salesman, not the attitude of the prospect." –William Clement Stone For every sale you miss because you're too enthusiastic, you will miss a hundred because you're not enthusiastic enough."-Zig Ziglar
Connect with Matthew Bellows