Today we meet CJ MacDonald the co-founder of Gyft - a new mobile platform that makes it easy for everyone to manage all Giftcards in one place.
Today we meet entrepreneur CJ MacDonald, the co-founder of Gyft, a new mobile gift card platform that makes it easy for anyone to manage their gift cards in one place. With a long list of retailers already on board including Amazon, Lowes and Brookstone, Gyft is looking to revolutionize the gift card market.
Q

: Tell us the startup story behind Gyft, what exactly does it do, and where did the idea come from?
CJ:  Gyft is a digital gift card platform that enables you to manage your gift cards. Users can upload, send and redeem gift cards from their phones. Gyft is seamlessly integrated with Facebook to make sending gift cards convenient and fun!  For retailers, Gyft creates a meaningful new revenue channel by giving brands visibility into the consumers that hold their gift cards.
By using Gyft's solution, merchants can drive customer acquisition, increase shopper interaction and drive social engagement. We were frustrated with the current landscape and constantly forgetting our gift cards at home.
Q

: How many people are currently using Gyft, and how do you plan to keep growing?
CJ:  We just launched last week and have had incredible response.  The app is social and we are partnering with retailers to provide a better consumer experience with gift cards.
Q

: How do you separate yourself from your competitors?
CJ:  We are building a digital platform for gift cards and approaching the market very different than anyone else.
Q

: What are some of the projects you working on now, and where do you see Gyft 5 to 10 from now?
CJ:  Currently you can buy and upload gift cards to the app.  In 5 to 10 years we expect millions of people to be managing their gift cards using gyft
Q

: Starting up what the worst mistake you made as an entrepreneur and what did you learn from it?
CJ:  Dont try and do too much out of the gate.  Focus on MVP and do it better than everyone else.  Expand on features once you have data.
Q

: What would you say are the top 3 skills needed to be a successful entrepreneur?
CJ:  Passion, ability to focus, Innovation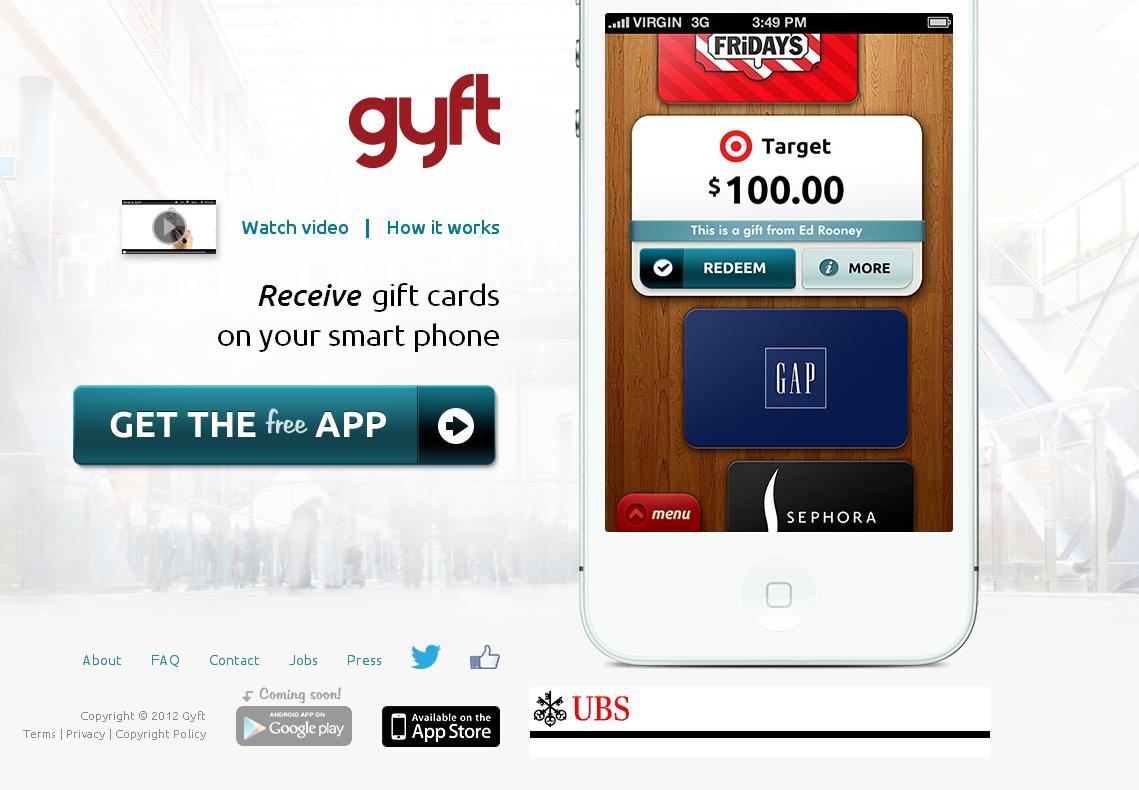 Q

: Share some tips and advice for new tech entrepreneurs on how to start and launch new apps?
CJ:  Build a solid team around you.  Dont settle. Built a strong culture where people enjoy coming to work each day.
Q

: Say I wanted to start my own version of Gyft today, what's the most important thing I need to know?
CJ:  You are going to lose a lot of sleep the first year 🙂
Q

: What was the best entrepreneurial advice you have ever been given and by whom?
CJ:  Do more than most, better than most in a shorter time period than most.  "my dad"
Q

: Besides the obvious social media apps out there, what are the top 3 must have apps for entrepreneurs?
CJ:  Goodreader, Msecure, Expensify
Q

: What is your favorite entrepreneurship quote?
CJ: Every single person I know who is successful at what they do is successful because they love doing it." – Joe Penna
Connect with CJ Macdonald