Steven Dziedzic is the founder of Hoppit, a search engine for restaurants and bars - A new techology for every ambience seekers.
Steven Dziedzic is the founder of Hoppit, a search engine for restaurants and bars. With the ability to choose vibes and generating relevant results, this new technology is a must for every ambience seekers. I recently had the opportunity to chat with Steven about the progress of his new venture and it went a little something like this.
Q

:
Briefly share the Hoppit start-up story. What does it do and where did the idea come from?
Steven:  The Hoppit startup story is pretty simple. I'm a huge foodie (in fact, I've been to over 500 New York restaurants!), but choosing restaurants was and has always been such a chore. Typically, it involved 30-60 minutes of research, per restaurant, looking through reviews sites, magazines, and blogs for places relevant to my scenario, as well as photos of the interior.
I wanted a way to get super fast, relevant results with beautiful photos of the interior; Hoppit was our way of doing that. Now you only have to spend a minute or two researching. Consumers simply tell Hoppit what atmosphere they want and the guests they're with, and Hoppit shows foodie suggestions along with beautiful ambience photos.
Beyond this personal story, we identified a huge market need. Folks who are obsessed with ambience, like myself, are the most underserved market in all of local search! There's no tool for them to use to find awesome ambience. We believe Hoppit addresses that consumer base.
Q

:
Starting as an entrepreneur what was the biggest problem you encountered, and how did you overcome it?
Steven:  The biggest problem I encountered was how to focus. I think as creators we aspire to create an all-encompassing solution to a problem. We want the full Monty, with all the bells ad whistles. But, in startup land, that's not going to do it. First off, you can never be 100% sure of what consumers want, so why would you develop 50 features. That just amplifies your chance of failure by 50.
So we aspired to create one magical feature—an ambience search engine. But, there are one million restaurants out there, and hundreds of millions of text-based reviews on the web. With all that data, how could we get Hoppit down to a single click? How could we make it that simple? It took months and months and months of white boarding, testing, and failing, but we finally got it down to a single click. It took lots of analysis, lots of conversations, a few fights here and there, and (the most important thing)—humility, and a willingness to redesign and redo.
Q

:
How do you separate yourself from your competitors?
Steven:  Hoppit's three pillars of value for the consumers are relevant, fast, and beautiful.
(1)  Relevant. Hoppit's primary focus is ambience, and ambience is the key factor in generating relevant results to consumers. The most helpful results are results based on your scenario (e.g. Cozy coffee shop for studying, Trendy brunch with friends, Chill dinner with children), and a search engine can only find restaurants for these scenarios if that search engine has an in-depth knowledge of ambience. Ambience is the key differentiator for Hoppit.
(2)  Fast. Unlike other restaurant searches, Hoppit's recommendations generate with a simple click or tap of a Hoppit "Vibe."
(3)  Beautiful. There is no consolidated database of ambience and interior images anywhere on the web, and this is what Hoppit is building—the world's most comprehensive database of beautiful interior images. We believe that the way consumers make decisions on restaurants is by actually seeing the interiors, and then picturing themselves inside the restaurant. Hoppit allows you to do this on a wide scale.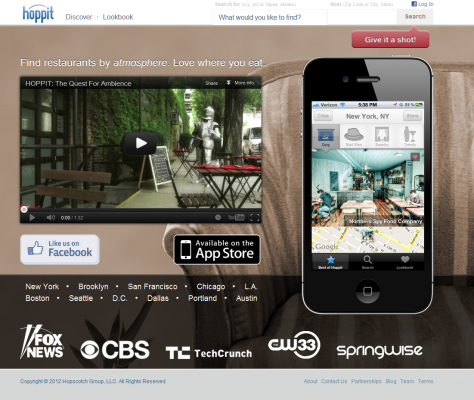 Q

:

 
Briefly describe what a regular working day is like for you?
Steven:  A startup Founder wears many hats, and most of them aren't glamorous. For the first 12 months (out of a total 22), I was Mr. Data Entry. Our technology gathers data from across the web, but in order to ensure accuracy, it needed to be curated—much like Pandora manually curates its Genome data. It was (and still is) incredibly tedious, but it needs to get done.
Now, I've transitioned into an evangelist, winning new partnerships and deals for Hoppit to keep growing and expanding. But, I still do tons of data curation.
Q

:
How do you decide who's the perfect candidate to join your team?
Steven:  The perfect Hopper wants to build something new; is incredibly thirsty for innovation; would kill for an intuitive user interface; is a giant foodie; is a gifted communicator; and leaves ego at the door.
Q

:
What are you working on right now, and where do you see Hoppit 5 to 10 years from now?
Steven:  We're working on expanding the Hoppit ambience platform globally. We're aiming to become the leading visual way to explore the restaurant scene in your city. If there's ever a need to find food with friends in any city, we want consumers to go to Hoppit.
Q

:
In your opinion what's the secret formula for success?
Steven: I can't claim to know the exact formula, but I'll give it a shot. In my opinion, it's a magical mix of the following:
(1)  Insane amounts of work (and I mean literally insane—you have to be a bit crazy to put in the amount of work it takes to create a winning product).
(2)  Insane amounts of patience. Success is never overnight. Never.
(3)  Pride and humility. You need to know when to stand firm on your gut, but you can't be arrogant. You need to be a life-long, humble learner.
(4)  A bit of luck, here and there.
Q

:
What is the one thing that you do on a daily basis to help you grow as an entrepreneur?
Steven: I walk everywhere in Manhattan—I've pretty much stopped taking the subway and taking taxis. Walking everywhere gives me time to think, time to breathe, and a moment to look at the bigness of the world around me. There's so much to create. So much opportunity.
Q

:
What are your top 3 favorite online tools or resources, and what do you love about them?
Steven:  Crunchbase, one of the best startup research tools out there.
Sharespost, which has incredible (and free) analyst reports for leading startups and innovative companies. (There's a theme here of me loving data analysis).
And ycominbator.com, because it has everything a startup founder could need, including financing templates and benchmarks.
Q

:
Recommend 3 books you think every entrepreneur should read and why?
Innovator's Dilemma, by Clayton M. Christensen:  because it proves that the little guy has a fighting chance against the big guy.
The Fountainhead, by  Ayn Rand because in the words of Charlie O'donnel, it sums up the entrepreneurial spirit. "The question isn't who is going to let me; it's who is going to stop me."
And always read a children's book, something fanciful, like James and the Giant Peach, by  Roald Dahl so you can remember the way children think—with incredible imagination. We all need that.
Q

:
What is your favorite entrepreneurship quote?
I have not failed. I've just found 10,000 ways that won't work," from good ole Thomas Edison.
Connect with Steven Dziedzic