A talk with Mahbod Moghadam, cofounder of RapGenius, also known as the Hip Hop Wikipedia.
Today we're talking with Mahbod Moghadam, co-founder of RapGenius, a website that explains rap lyrics (also known as the Hip Hop Wikipedia). What started as a fun project has now culmination in a $15 million investment from Venture Capital Firm Andreessen Horowitz.
Q

:

 

Tell us a little bit about your background and the start-up story behind Rap Genius.
Mahbod:  I grew up with hip-hop, it is my life. The first song I memorized the lyrics was "Regulate" by Nate Dogg and Warren G. I used to explain rap to Tom, the man who built the site. He says he was inspired by my explanations, I have no idea, he's a genius. This was the song that inspired rap genius: http://rapgenius.com/Camron-family-ties-lyrics
Q

: 
What are some of the projects you are working on right now?
Rap Genius for indie rock: http;//facebook.com/stereoIQ
Rap Genius for poetry: http://facebook.com/poetrybrain
Rap Genius for Law: http://facebook.com/thelawgenius
Q

: 
How many people are currently using this platform and how do you plan to keep growing?
Mahbod:  We have 500 editors who run the site and 250K people have written explanations. Mostly all of that so far has been for rap, the other sh*t is just getting STARTED… someday, the Rap Genius for country music will be bigger than any other site on the internet just by itself. Errbody wanna know what country songs mean (ya hurd?)
Q

: 
Do you or have you owned any other businesses in the past? If so what happen to them?
Mahbod:  LOL naw homie I worked for a law firm – Dewey & Leboeuf – and they went under. Ilan worked for Google and Tom worked for D.E. Shaw (baller hedge fund) tho so overall we are covered.
Q

: 
How do you separate yourself from your competitors?
Mahbod:  Humor, swag, community, love.. which competitor? Facebook? Many more couples will meet (someday) from Rap Genius than even from Facebook, which, I admit, it pretty dope too……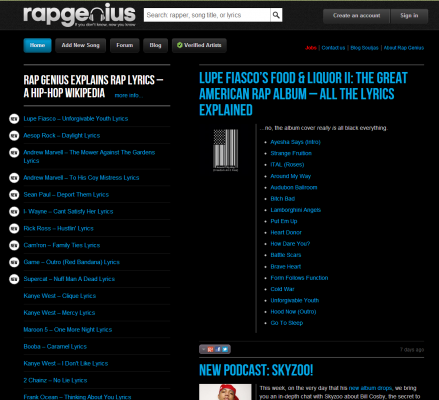 Q

:  What's the single most important reason for Rap Genius success?
Mahbod:  Love. We never thought this would become a serious website, we only explained songs for love.
The first rap songs I explained were not the most popular songs, but simply my favorites. With literature, too, I'm beginning to explain my favorite chapters from Moby Dick: http://rapgenius.com/Herman-melville-moby-dick-chapter-42-the-whiteness-of-the-whale-lyrics
Q

: 
What would you say was the tipping point for your company?
Mahbod:  At a lake at Stanford one night, with Tom, I realized we would become the biggest site on the internet. We will explain all of text – Rap Genius represents knowledge about knowledge.
Q: 
What is one thing you know now that you wish you knew before launching Rap Genius?
Mahbod:  When we started the site, I thought the theme would be me "explaining rap to white people." A lot of people think this. IT IS NOT TRUE. Rap Genius has become a facet of hip-hop culture. Most of our users and readers are not white. We are building an indie rock site now, too.. hopefully that will even the playing field.
Q

: 
Starting out what the worst mistake you made as an entrepreneur, and what did you learn from it?
Mahbod:  I focused too much on sex.
Q

:  You guys just secured a $15million investment from Andreessen Horowitz, so what can we expect from Rap Genius in the next 5 to 10 years?
Mahbod:  Explaining all of law will be quite a project. Poetry will also be a serious challenge. Rock music should be relatively easy. Country music will be easy and fun. The Bible will be a numinous undertaking. I'm looking forward to this, in every language. I am giving a talk next month at Harvard on "Poesie Cerveau" (Poetry Brain en Francais).
Q

: What was the best entrepreneurial advice you have ever been given and by whom?
Mahbod:  JUSTIN KAN taught me that traction is everything – if you have massive users, that means you have changed the face of human culture.
Q

:  Say I was starting my own version of Rap Genius today, what's your advice for me?
Mahbod:  Just join us homie… this is not a business this is a religion.
Q: 

What is your favorite entrepreneurship quote?
Mahbod:  From RICK ROSS' masterpiece – HUSTLIN:
Don't tote no twenty-twos
Magnum cost me twenty-two
Sat it on them 22's, birds go for 22
Lil' mama super thick, she say she 22
She seen them 22's, we in room 222
Connect with Mahbod