What I learned from Nick Friedman co-founder of College Hunks Hauling Junk - a franchise junk removal company in Tampa, FL.
I recently had the chance to speak with Nick Friedman, president and co-founder of College Hunks Hauling Junk, a local junk removal company in Tampa, FL. Nick has been featured on networks such as CNN, CBS, and NBC, and was also named one of the Top 30 Entrepreneurs in America Under 30 by INC Magazine (2008). Today Nick will share with us his experience as a young entrepreneur and some of the valuable business lessons he collected along the way.
Q: 
Tell us a little bit about your background and the start-up story behind College Hunk Hauling Junks.
Nick:  One summer break during college, my business partner Omar Soliman and I started hauling junk with his mom's beat-up cargo van. We earned a lot of money that summer and, later, even won a business plan competition with the idea. Still, after graduation, we both landed high-paying corporate jobs that most people would've killed for. After about a month of the corporate grind, though, we realized we weren't cut out to work for someone else, so we got started making CHHJ an official business. We quit otherwise great jobs to go all in on our business idea for junk hauling. It was a risk, but it worked and we haven't looked back since.
Q: 
What are some of the projects you are working on right now?
Nick:  Mainly, we're focused on growing College Hunks Hauling Junk and College Hunks Moving  to increase the overall quality and capability of our service as much as we can. As part of that effort, we're working toward incorporating supplemental revenue streams to go with our primary service offerings. For instance, we've recently launched a daily trash-pickup service that we call "Trash Butler." The goal is to enable our clients to make just one phone call and have all of their related problems handled in an effective, streamlined way.
Q:
Do you or have you owned any other businesses in the past, if so what happen to them?
Nick:  Omar and I had a few different business ideas way back before we started College Hunks. At one point, we tried to launch a t-shirt company. None of them ever really took off, but we did learn some valuable lessons about entrepreneurship 101. Those businesses may not have panned out, but they definitely helped to prepare us for what ultimately became College Hunks Hauling Junk and College Hunks Moving.
Q:
How do you separate yourself from your competitors?
Nick:  We separate ourselves from the competitors through the quality of our client-experience. There are literally thousands of people out there who haul junk. We didn't reinvent the wheel, but that was never our goal. We wanted to take something that so many people were doing and put our own spin on it to improve the quality.
With College Hunks Hauling Junk, the clients receive a much more stress-free experience, from start to finish, than they would if they hired some guy off the street to haul their junk. Our frontline team members are clean cut, intelligent, friendly and just flat out nice. That's why we say "HUNKS" stands for "Honest, Uniformed, Nice, Knowledgeable Students" and we truly live by that standard.
Q: 
Please share a few tips and advice for first time entrepreneurs.
Nick:  The biggest piece of advice that I would offer a budding entrepreneur is to surround yourself with knowledgeable, experienced mentors. No one has all the answers, and I mean no one, but if you have a group of mentors to whom you can go on a regular basis to toss around ideas, ask questions or get help, then there isn't a problem in the entrepreneurial world that you won't be able to overcome.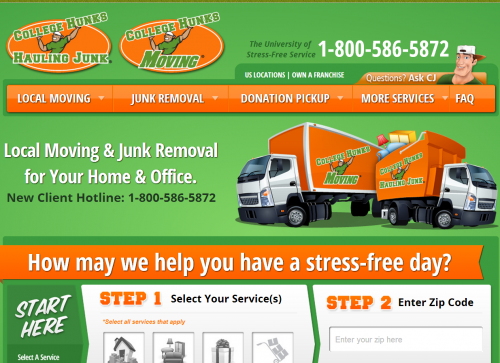 Q:
What would you say was the tipping point for your business?
Nick:  The tipping point for College Hunks Hauling Junk was when we quit our safe, corporate jobs to devote ourselves to our business. Before we ever got a loan or an EIN, we knew we had to jump completely in so that we could make it work. The day you go from committed to dedicated is the day you're official. It's also more than likely the day that you will begin taking strides toward major success.
Q:
What is one thing you know now that you wish you knew before starting your company.
Nick:  I can honestly say there isn't much I would change about the knowledge that I came into entrepreneurship with. When we started the company, we were a little naive about certain things. We had no idea about the ridiculous amount of work it takes to achieve success in entrepreneurship. The thing is, being naive, we were able to avoid looking at the journey as the huge obstacle that it is. Instead of viewing it as a mountain to be climbed, we really focused in on each step, one at a time. Sure we made mistakes, but at the end of the day, those mistakes become valuable, first-hand lessons.
Q:
Starting out what was the worst mistake you made as an entrepreneur – and what did you learn from it?
Nick:  The worst mistake we made was trying to expand too quickly. A while back, we tried to offer a retail side of our business. We figured we could make more money by selling some of the items we picked up on jobs. We took the idea pretty far. We even leased space in a warehouse.
The problem was that we had no idea how to operate a retail business. We were in way over our heads and, in the end, the idea failed and we lost some money. From that failure, though, we learned that, while experimentation is good, you need to scale your experiments and build slowly. Since then, we've undertaken multiple supplemental revenue streams, but each one was built slowly to curb the potential risks as much as possible. The tortoise beats the hare in the long run and that's where our focus is: on the long run.
Q:
What is one thing that you on a daily basis to grow as an entrepreneur?
Nick:  I read a lot of business related books and articles. It's funny because I remember, in college, I never used to want to read for class. It turns out that having an interest in what you're reading is a great motivator to power through a lot of material. Who'd have thought? Now, I can't stop. I'm basically a sponge, excited to soak up all the information about entrepreneurship that I can. And it's made a huge difference. I've observed, gathered and sifted through so many different perspectives on the same topics. As an entrepreneur, you need to go out of your way to learn things every day. Keep an open mind and be willing to innovate. That's how you get ahead and really grow in this game.
Q:
How is running a successful business different than what you thought it would be?
Nick:  It's a lot more work than I thought it would be before I started. I rarely have a free minute to waste. When everyone's counting on you, you have to keep a tight schedule and stay on top of things. It took a while, but eventually I figured out how to distance myself from the day-to-day of the business and work on it instead of in it. Even with that, though, it seems like there's always something that needs done. In the end, it doesn't really feel like work because I love it so much, but it is definitely nowhere near as easy as I once imagined it.
Q:
What was the best entrepreneurial advice you have ever been given and by whom?
Nick:  "Stay Hungry, Stay Humble". This was told to us by the ESPN Sportscenter anchor Scott Van Pelt.  We had an opportunity to hang out with him at the Superbowl, and he told us this piece of advice, which is the same piece of advice he gives to all the famous athletes he meets. It's a great reminder to never forget where you came from and never forget how much more you have to achieve. The moment you become complacent and/or cocky is the moment your business can collapse.
Q:
Say I was starting my own version of College Hunk Hauling Junks today, what's your advice for me?
Nick:  I would say that if you stick to the systems we have in place, pay attention to the details and bring your passion with you to work every day, then you'll do very well for yourself.
Q:
What is your favorite entrepreneurship quote?
Nick:  "People don't fail, Systems do." This was from Michael Gerber, author of the bestselling book E-Myth Revisited. He also wrote the Foreward for our book, entitled Effortless Entrepreneur  Work Smart, Play Hard, Make Millions (www.EffortlessEntrepreneur.com)
Connect with Nick Friedman