Learn why Rand Fishkin founder and CEO of SEOmoz, don't favor the link building techniques - What he believes the future of SEO looks like.
Rand Fishkin is the Founder and CEO of SEOmoz, an SEO software development company based in Seattle, WA. His company provides tools and resources to help marketers maximize their search engine optimization. Rand has accomplished a great deal of success over the years and today we have the opportunity to learn some valuable lessons from him.
Q:
Tell us a little bit about your background and the start-up story behind SEOmoz.
My background is pretty much entirely at SEOmoz. I dropped out of the Univ. of Washington in 2001 and started working as a web designer/developer/usability guy with my Mom's tiny marketing consultancy. That grew into the SEOmoz consulting business which we transitioned in 2007 to software. You can read a lot more about the story here
Q:
What are some of the projects you are working on right now?
We're in the midst of working on a plan for creating a scalable, functional organizational structure for the company. That sounds really boring and corporatey (which is stuff I hate), but it's actually super important. There are a lot of people at Moz who want to understand how their career here can grow, what opportunities they've got, how the team works today, etc. When you start talking about org charts and management vs. independent contributor levels, people roll their eyes and think of TPS reports. The reality is, as you start growing past 100 people on the team, you either get that stuff right and make it explainable and transparent to the company, or people start getting frustrated and leaving. We want to have our cake and eat it, too – provide a simple, transparent, empathetic model AND don't make it overly bullcrap with corporate jargon and unnecessary junk.
I'm also working on a lot of presentations and content for upcoming conferences. I've enlisted the help of a local design agency to help me with my slides for the first time. I hope to see the results of that in a few weeks. It might help make me more scalable for all the external speaking I do.
There's dozens of other projects I'm working on and the team is, but I'll let those stand for now. If you want to see what's going on more deeply, my new personal blog covers a lot of that: http://moz.com/rand
Q:
Do you or have you owned any other businesses in the past, if so what happen to them?
Nope. This is my one and only 🙂
Q:
How do you separate yourself from your competitors?
We've been first movers in our space on a lot of technology, content, concept, and execution of software for SEOs and marketers, but now that we're getting bigger, I can see that's going to be less the case on the smaller, more tactical stuff. We'll need to learn from what others build as well as invent our own stuff long term. And in some cases, we can make acquisitions (e.g. Followerwonk).
We do competitive analyses internally today – one of our team members from the marketing group just presented on this last Friday. We try to identify strengths and weaknesses of our competition and determine what we can do better and how.
Overall, though, there's a few big things that separate us:
Our team – not just who we recruit but how we treat each other and how we grow talent internally. A lot of this relies on TAGFEE (our core values) and how we apply them.
Our vision – we're specifically not trying to serve enterprises, not trying to compete in marketing automation or social media management, not trying to build features for certain kinds of users, etc. The things we're not doing actually give us a lot of freedom to be focused and thoughtful about what we are building.
Q:
Please s
hare a few tips and advice on SEO for new entrepreneurs.
My 5 best tips are to read these 5 resources:
(1) – New to SEO? Read the Beginner's Guide before you go any further: http://www.seomoz.org/beginners-guide-to-seo
(2) – Have a little experience? Check out http://hackersandfounders.tv/RDmt/rand-fishkin-inbound-marketing-for-startups/ a session I did for Hackers & Founders that was very well received by many Silicon Valley startup folks.
(3) – A great presentation on Startup SEO from the folks at Distilled: http://www.slideshare.net/tomcritchlow/seo-for-startups-9682262 who do a lot of startup SEO consulting
(4) – Top 7 Lessons I've learned (and shared) for a talk at YCombinator: http://www.seomoz.org/blog/seo-for-startups-top-7-lessons
(5) – Finally, make sure to ask whether SEO is the right thing for your startup to invest in: http://www.seomoz.org/blog/is-seo-the-answer-for-startup-marketing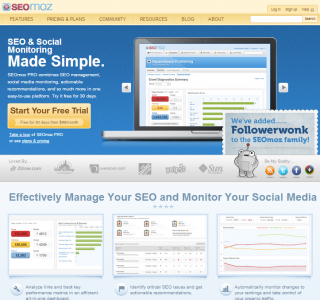 Q: 
What are some of the popular SEO techniques you disagree with and Why?
I don't like "link building." I agree that it exists and that it can still work, but long term, I think Google's trying to entirely eliminate the practice of going out onto the web and trying to acquire links. They'd far prefer that people build great brands with compelling content and earn their links through things they naturally do (participating in their communities, sharing socially, getting press, building partnerships, inspiring their users, etc). I think the era of "earning links" not "building" them, is here.
Q:
 Starting out what the worst mistake you made as an entrepreneur, and what did you learn from it?
Not establishing a company culture earlier was definitely a big mistake, but I've made tons of them. Since that one, in particular, we've been rabidly focused on making sure we don't just pay lip service to TAGFEE and to the expressed importance of culture in every element of the team. That's much easier said (or written) than done, but it's incredibly worthwhile.
Q: 

What is one thing that you on a daily basis to grow as an entrepreneur?
I try to blog 4 nights a week. Forcing myself to write also forces me to think cogently and be challenged by the web's collective commenters. I've learned a lot by writing over the years, and I hope to stay disciplined and keep it up.
Q: 
Besides SEOmoz of course, what are the top 3 SEO tools & resources every entrepreneur should use?
(1) – Google Analytics

(2) – Google & Bing Webmaster Tools

(3) – Google AdWords for Keyword Research
Q:
What was the best entrepreneurial advice you have ever been given and by whom?
Our investor from our first round, Michelle Goldberg (of Ignition Partners), has often given me advice about scaling my personal role, particularly when it comes to product ownership and design. That's made a huge difference the last few years. Don't design for yourself and don't assume you can do it all. A great team is better than a visionary CEO 99/100 times.
Q:

 Say I was starting my own SEO Company such as SEOmoz, what's your advice for me?
An SEO software company? I'd say to find an underserved niche and create a simple prototype you can test with lots of SEO professionals. If they love what you're making and can't wait for more, you're onto something.
Q:

What is your favorite entrepreneurship quote?
"When I was young, I admired clever people. Now that I am old, I admire kind people." – Abraham Heschel
That quote resonates with me because it fits my philosophy and my goals. I'm thrilled that SEOmoz has had such success, but if it ever comes at the expense of our empathy and our ability to be kind, I hope the market switches to our competition.
Connect with Rand Fishkin