Josh Isaak shares his experience with the Foundation entrepreneurship training program, and also the unique approach he took launching his new company.
Josh Isaak is the co-founder & CEO of MySky, a CRM platform design to help small businesses boost sales and productivity. He created this new business while attending the Foundation, a six months entrepreneurship program that teaches entrepreneurs how to launch tech startups from scratch.
On this interview Josh shares his experience with the Foundation, and also the unique process he took launching this new company.
Q:
Please tell us a little bit about you company – what is MySky CRM all about?
MySky is a CRM targeted at small businesses. We focus on the small business sales process and all the actions a business owner takes from getting a lead to making that lead a sale. We display this in a very visual way that is easy to use and easy to track. The bigger thing though is that we are passionate about helping small business owners grow. We want to help them grow their with business by using our software, yes, but also with other means. For example, we offer free business strategy coaching and content that is truly targeted to the small business owner. We've been small business owners and we know how important it is to have someone by your side during the trenches. MySky is that company. That is our passion.
Q:
Please tell us a little bit about yourself and also how you started your business?
I grew up in British Columbia, Canada, just outside of Vancouver. I chose to start a painting business while going to university which I grew to 17 employees. But I started getting more passionate about running businesses than the actual classwork I was learning in my degree program, so I decided to drop out of university and run businesses.
I received a corporate job offer and had to decide which way I wanted to go: corporate or continue to live the life of an entrepreneur. I chose the latter and decided to get into software entrepreneurship after hearing Dane Maxwell talk about SaaS and that it truly is one of the best business models around because of these 4 Principles:
1. Automated sales
2. Reoccurring revenue
3. No accounts receivable
4. Selling tools and shovels instead of digging for gold (gold rush analogy)
We started MySky by responding to a need in the market for an easier and simpler CRM than what small businesses had options for; one that captured the sales process of the small business owner.
The first thing that happened was that we received a contract to build a CRM for 105 Phantom Screen businesses in North America. We pre-sold just under 20% of these businesses on our software before it was created through a combination of email marketing (targeting the opens and clicks as we sent emails), trust-building idea extraction calls and some sweat and tears.
We then expanded to other markets once we had a working prototype and sold other small business industries onto our beta product. We launch our official non-beta product on Aug 1, 2013 and will be launching it with 80+ paying users.
We chose to do it this way because of the processes taught in The Foundation (MySky was built in the Fall 2012 round of the Foundation) and it just makes sense to make sure people are buying your product before you spend a ton of effort and money into building it. This way, you have reasonable grounds to believe your product and business will succeed.
Q:
What are some of the projects you are working on right now?
MySky is what I'm working on full-time. I'm also involved in an underground movement called the Giving Circle. It is group of entrepreneurs looking to start a movement by giving something once a day for a year. Also, I'm involved in a side project called FindTraction. We are looking to help entrepreneurs do just that, find traction, by opening our networks and more to them in a virtual summit format.
 Q:
Say I was starting my own version of MySky CRM today, what advice would you give me?
Get your first 5 customers before you even think about developing. So many entrepreneurs have a great idea and spend months proto-typing, building webpages and strategizing their growth before getting out of the building and talking to a customer. Do this first.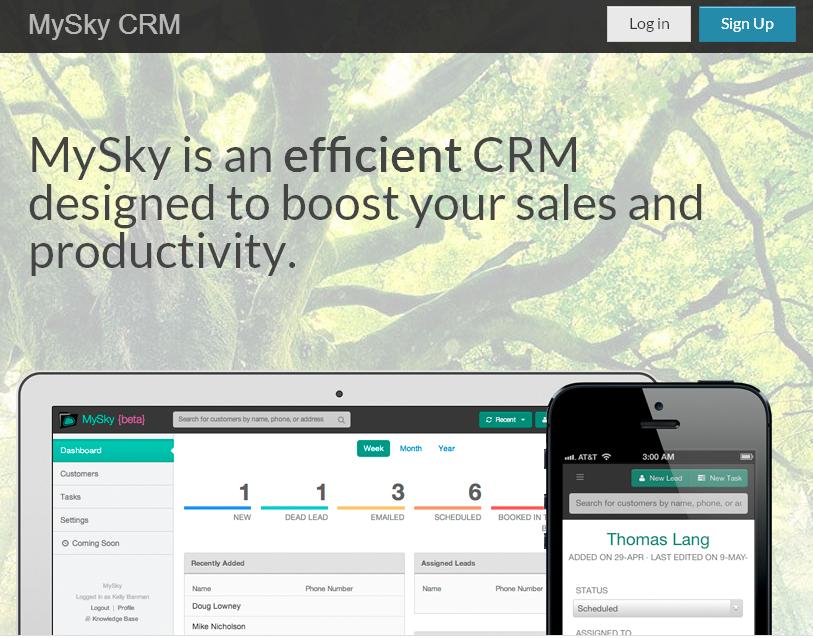 Q:
Can you please share some online marketing tactics you currently use to grow your business?
We are pretty basic at this stage. I believe getting the first 100 paying customers needs to be done the old-fashioned way by just getting out and talking to your market. We did this by going using Meetup.com to find relevant meetups in our area and attending them. When I was at the meetups, I would focus on meeting as many people as possible. I would first show interest in them and ask them what they did in their business, and then naturally they would ask me. I had a solid pitch and many people became interested in our product. From there, I'd get their business card and call them the next day to set up a walkthrough of our system.
I also mentioned in a previous question that we did email marketing. We used ToutApp to send emails to our market, and then we monitored the opens and clicks on those emails that were sent out. We would call the opens and clicks right away and and engage them by asking about their businesses and then offering our beta program. This worked well.
My overall strategy is simple: have Active and Passive forms of marketing happening at all times. For us that breaks down into four categories: Inbound (Passive) , Outbound (Active), Content (Passive) and Influencers (Passive). For inbound we are going to start SEO, ad retargeting. For Outbound, I  have a team that I'm setting up both locally and overseas that will email and call lists of business and set up demos of our software. Content is simple, we create relevant content for our blog and social media channels that our demographic can learn from and wants to read. And then the influencer route is this article: I do podcasts and video interviews to share our story and get our brand out there (I'll be doing guest blog posts and looking for resellers in the future as well).
This combines for a pretty good marketing strategy that isn't too complex.
 Q:
What was the best business advice you have ever received and who gave you this advice?
There's many, but I'm going to stick with the theme. "Get Out of The Building."
I was at a Lean Startup Machine Weekend in Vancouver where teams of 3-6 people come up with a problem hypothesis and start a business by solving that problem with a product (some with paying customers) in one weekend. The theme is to get out of the building and talk to your market. This is absolutely critical when you are thinking of starting a business. You need to think, "where is my market?", and then go there, whether that is coffee shops or online forums, or somewhere else.
Then you can validate whether or not they have pain associated with the problem you want to solve for them. Lastly confirm by getting them to sign up or pay for it. You can get a paying customer in an hour this way without a product. It is incredible what happens when you stop thinking and start taking some targeted, deliberate action. I believe this is something that every entrepreneur needs to hear! It blew my mind when I learned and saw it in action.
Q:
What are the top 3 online tools and resources you're currently using to grow your business?
MySky  – Converting our leads to sales
MailChimp – Email marketing
oDesk.com – Outsourcing tasks and keeping effective with our budget
Q:
What's your definition of success?
My definition of success is doing something you love, but not neglecting the people that you love. For me, this challenge is real and a constant battle which I need accountability for. I'm driven to be successful in business, and that takes my time and energy, but I know that that success means nothing if I get there and all I have is myself and my employees.
Success is so much more than just business. This is something that I'm learning more and more each day.
I think the most important things in life still are faith, hope and love. And I strive to keep those highest amidst the busyness of my start-up and entrepreneurial treks.
Q:
What are three books you recommend every entrepreneur to read?
The Lean Start-Up by Eric Reis
Integrity by Dr. Henry Cloud
The Purpose Driven Life by Rick Warren
and: this blog post by TIM FERRIS:  How to Create a Million-Dollar Business This Weekend
Q:
What is your favorite entrepreneurship quote?
"Courage is being scared to death but saddling up anyway."- John Wayne
Q:
How can our community get in touch with you?
I love to connect with people! Get me on Twitter: @josh_isaak Email: josh@getmysky.com

* A BONUS Gift to BillionSuccess Community. 
And if you mention BillionSuccess.com to us when you sign up for MySky, we will give you 10% off for the first year.