As co-founder of LeadSift, Tapajyoti has bridged the gap between businesses and customer conversations utilizing cloud platform technology.
Tapajyoti Das helps you find actionable business opportunities on Social Media with LeadSift.
As co-founder and CEO of LeadSift he has bridged the gap between businesses and customer conversations utilizing cloud platform technology. Read on as he shares some valuable business advice.
Q:
Please tell us a little bit about your company – what is LeadSift all about?
LeadSift is a platform to identify customers for businesses from social media. Our vision is to connect consumers in their buying journey to businesses via social media.
Q:
Please tell us a little bit about your background and how you started your company?
I was born and brought up in India and moved to Canada for my university. After graduation,
while working for a small Search Engine company as a Research Engineer, I was drawn towards Data Mining and Information Extraction. Back in 2009 when Twitter was still in its early days, 2 of my friends and myself we started playing with the Twitter Data via their API. We ended up building a Real-time search engine using Twitter Data. Even though it was a pretty cool experience, we quickly realized that it did not solve any pain. But as we were analyzing the data we realized that Social Data provides a wealth of insights about consumers, which can be used by businesses to connect with them. That's how we got the idea about LeadSift!
Q:
What are some of the projects you are working on right now?
We are working on building an Enterprise offering of the LeadSift platform that provides a Macro View for Brand Marketers to understand the buying audience. Also looking into integration partnership with a couple channel partners.
Q:
What are your plans for the future, how do you plan to grow this company?
In the past year, we have learnt a lot about how large enterprises and SMB's view social media. We have taken that learning and clearly separated our value propositions for the enterprises and SMB market. Our Direct Response product targeted towards the SMB market is getting great traction and we will continue to build on that for aggressive growth.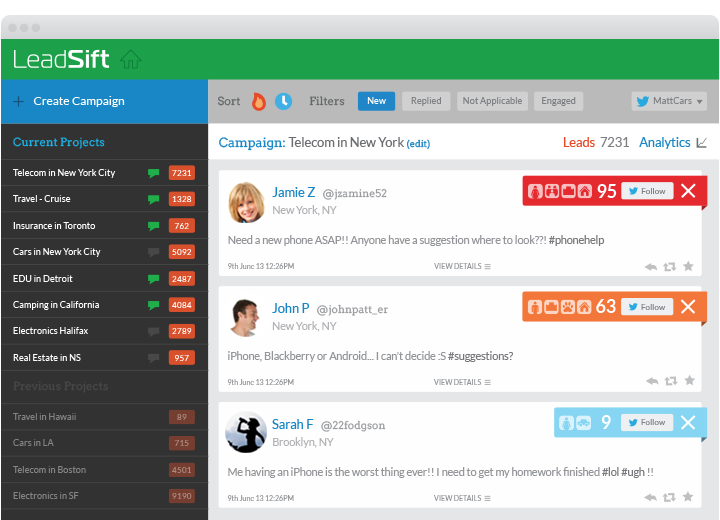 Q:
What were the top 3 mistakes you made starting your business and what did you learn from it?
(1) – What gets measured gets done! – Measure everything you do in your company from product to sales and marketing.
(2) – Never give away your product for Free! You'll never get any feedback or recognition. Giving a heavy discount is fine, but always make sure you charge something. If the clients don't have any skin in the game they won't care for your product
(3) – Learn to Market your product: There is no point in being the best software if no one knows about it. We obsess over having the perfect product without worrying too much about marketing it/letting the world know about it.
Q:
Please share some advice for new tech entrepreneurs, someone who's just starting out.
Always make sure you are executing on whatever ideas you have or plans you make. Its easy to come up with new ideas or strategies, but if you are not executing properly or seeing it through till the end, the whole endeavor is useless.
Q:
What was the best business advice you have ever received and who gave you this advice?
It is your company and ultimately its up to you to make the decisions, don't let anyone else run it for you. If you don't agree with something don't do it just because your investors/advisors asked you to do so.
Q:
What are the top 3 online tools and resources you're currently using to grow your company?
Twitter
Q:
What's your definition of success?
I am not sure who said this but for me: Success is, making the people who believed in you (team members, investors, advisors) look really good.
Q:
What are three books you recommend entrepreneurs to read?
Crossing the Chasm – Geoffrey Moore

Founders at Work

– Jessica Livingstone

Venture Deals

– Brad Feld
Q:
What is your favorite entrepreneurship quote?
Entrepreneurship is like jumping off a cliff and you are expected to assemble an airplane on the way down – Reid Hoffman  [Tweet It]
Q:
How can our community get in touch with you?
Email: tdas at leadsift.com or on Twitter: @tdas