First and foremost, you should be technically capable of developing your product or overseeing its development.
Cyrus Nambakhsh is a co-founder and CEO at Gymnut, a social training marketplace that allows trainers and other fitness enthusiasts to share fitness content, build fitness followings, and offer workouts and training plans.
Q: Please tell us a little bit about your company – what is Gymnut all about?
Gym­nut is like 'iTunes & Instagram' of fitness. It is a place for personal trainers to connect their services to people in need of them; a social fitness marketplace allowing fitness to be inspiring, fun, and super practical.
For all you gym-goers, your Gymnut journey can start with a fitness selfie, then engage with a network of constantly growing personal trainers, and then finally unlock one of the workouts created by these trainers.
Gymnut has a workout store which works pretty much like how iTunes works for musicians and their records. Fitness and wellness trainers create and publish their workouts for the price they set to strengthen the training engagement with a broader audience.
Gymnut's social feed, which works similar to Instagram, integrates the progress and daily activities of clients and trainers around their workouts, and anything they would like to post.
Q: Please tell us a little bit about your background and how you started your company?
I am an engineer and scientist at heart but an entrepreneur in practice. I have my undergraduate up to PhD studies all in Biomedical Engineering with a focus on Artificial Intelligence, computer vision, and developing firmware and software for solving health issues like cardiac diseases. I have a few innovations in Tele-Cardiograms, Minimally Invasive Cardiac Surgery tools, and dongles for mobile medical applications.
I have also been a soccer goalkeeper for the most part of my life especially at the university level. Back in the days, I used to impress my coaches with my reflexes and confidence in defending the net, but they all had a common suggestion for me,  "You must build up your physique if you would like to become a professional athlete."  That became my challenge and obsession at gyms while I was bogged down in school. Being a newbie to workouts and nutrition plans, I was always disappointed and hopeless to make the progress I needed so badly. Years past and I was thinking there should be a better and much affordable way to access the right training plans, trainers, and the inspiration that I needed to transform my physique. That was the time for Gymnut to be born.
Q: What are some of the projects you are working on right now?
While 100% of my focus is currently on Gymnut, I also recently founded an app called Nearjobs, a proximity app for outsourcing chores. I have also recently filed a patent for the first mobile dongle for pregnancy and ovulation tests.
Q: What are your plans for the future, how do you plan to grow this company?
Our mobile apps for regular gym nuts (e.g. gym-goers and those who work out outside gyms) is heavily focused on making online training personalized, practical, and affordable – letting users follow trainers, socially share progress via a timeline, and be rewarded by peers and trainers.
We have focused deeply on scalability of Gymnut, while designing and developing it from get-go. Both trainer- and trainee-sides of the marketplace have been developed to facilitate scalability and virality of the app.  With the launch of our Android native app in mid-June, we expect a phenomenal engagement between our 170 trainers and fitness enthusiasts. We expect to see an unprecedented growth in our user base, and workout and training plans sales.
We have some long-term plans to intersect Gymnut and artificial intelligence (AI) which falls within intellectual property realm, and I won't be able to discuss them at this point.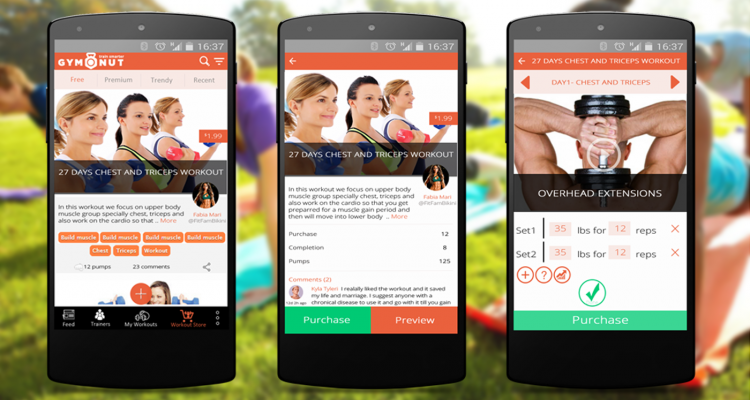 Q: How do you bring ideas to life?
Entrepreneurs by nature are naggers. Most of them complain about their surroundings a lot. If it happens that they are too frustrated about something, then they think about a better way of doing it or find a solution to relieve the pain.
I always like to mull a problem over for a while, run my first few possible ideas by a few close people and pretend there is a product that does the job and then watch their reactions. If responses are positive, then would go after building partnerships and a team. Building a product regardless how simple it is, will take at least 6-12 months of teamwork.
Q: What were the top 3 mistakes you made starting your business and what did you learn from it?
I wasn't a firm believer in lean startup strategy which advocates bringing the MVP to life as soon as possible.
We, especially myself, were sometimes waiting too long for some of our team members to get some tasks done instead of learning the skills and getting it done ourselves. There were many people who we rushed to bring them on board and they never got anything serious done. On the flip side, I learnt that I should self-train fast and agile, and resort to my dedications and passion for the product.
And finally, never get a lot of your advice from large corporate CEOs too early in your business.
Q: How do you go about marketing your business, and what has been the most successful form of marketing for you?
Marketing is all about building brand, demonstrating the value, and hustle around your effective campaigns. My co-founder Hassaan Ahmed has dedicated himself in learning and leading our marketing team, and I help where I see a gap and can give a hand. Our strategy is mainly focused on online marketing and currently limited to PR campaigns, content marketing via our online magazine (Fitness20.ca) and social media campaigns.
We are putting together a team of regional brand ambassadors to help us spread the word.
Q: What would you say are the top 3 skills needed to be a successful entrepreneur – and why?
First and foremost, you should be technically capable of developing your product or overseeing its development (for example, understand principles of programming and designs for web2.0).
Secondly, you must be an extremely hard worker, a hustler, and open to learn anything outside of your comfort zone. You should be basically a Swiss army knife for your business.
You should become the person who sets the example for the rest of the team. Eventually, be a great team worker who is capable of working in a startup environment with a horizontal structure. In another word, you and your new hires must have very close ties and interactions.
Q: What are the top 3 online tools and resources you're currently using to grow your company?
Q: What are three books you recommend entrepreneurs to read?
My suggestion here is don't rely too much on reading books to learn how to operate your business. Internet has a lot of good sources for entrepreneurs. Join the communities. As an entrepreneur you shouldn't have enough time to read books and if you have then something is not being done in your business.
Q: What is your favorite entrepreneurship quote?
"Most successful founders are driven by impact rather than experience or money." – Startup Genome Report
"Running a startup is like being punched in the face repeatedly, but working for a larger company is like being waterboarded." – Paul Graham
Q: How can our community get in touch with you?
I am always on the lookout for talents. I personally make sure to encourage smarter people to join our growing team. We are also building and expanding our network of ambassadors inside and outside of North America. Finally, if you are interested in any substantial press coverage or joining our team, Please reach out to me at cyrus@gymnut.co or find me on twitter, Linkedin and Instagram.