"You don't need to be everything to everyone. It prevents you from being great to those that really matter."
Joybird cofounder Alex Del Toro joins us in an interview sharing the lesson he learned launching his furniture company.
Q: Please tell us a little bit about your company – what is Joybird all about? 
Joybird is an online premium furniture company that is combining customization with technology. It allows our customers to create very unique pieces that are designed specifically to fit their lifestyles and personalities.  We are here to lead the new way people shop for furniture, especially millennials. We meet them where their eyes naturally gravitate to, their digital devices and provide them with plenty of color/fabric options, handmade craftsmanship, transparency, and customizable dimensions so they never have to sacrifice style or comfort.  This whole process naturally begins by taking care of our employees and together we better serve our customers; it's just the natural flow of who we are.
Q: Please tell us a little bit about your background and how you started your company?
We started Joybird in order to fill a void in the furniture industry, by offering mid-century modern inspired pieces of true hand-made quality at never before seen lead times.  The four of us met about five years ago and our shared passion for providing a true customer experience, coupled with quality furniture designs is what really propelled us to launch Joybird. Together we have about 40 years of experience in the furniture industry; we love what we do and continue to innovate every single day.
Q: What are some of the projects you are working on right now?
Currently we just expanded our factory to one that is five times the original size from only 1-½ years ago. It is a new 139K sq. feet space, which allows us to meet our growing customers' demands nationwide. We are extremely pleased with how well received Joybird has been and every day we hustle to make sure we are surpassing our customers' expectations. This January we also launched our wholesale division, and have permanent showrooms in Showplace Center High Point, North Carolina, and World Market Center in Las Vegas, Nevada. We continue to innovate the online shopping experience and are consistently updating and bringing the latest trends in technology to provide an exceptional customer experience.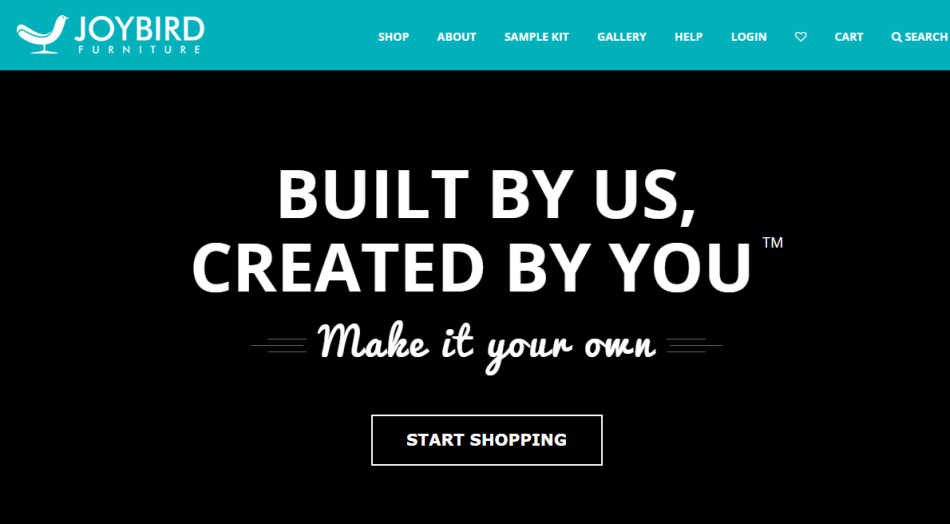 Q: What are your plans for the future, how do you plan to grow this company?
Our plans for the future are to continue to listen to our customers and our employees and make sure we are addressing their needs, and then be a step ahead. We will continue to invest in our team and our infrastructure in order to provide an even better product and service.
Q: How do you bring ideas to life?
Decide what it is you want. Write that down. Make a plan. And work on it. EVERY. SINGLE.  DAY.
Q: What's one trend that really excites you?
In furniture, the use of alternative materials and quick 3D printing for prototyping.
Q: What were the top 3 mistakes you made starting your business and what did you learn from it?
The top three mistakes we made while starting our business were:
That we did not do it sooner.
Underestimated on a lot of fronts.
Over extended product offering.
What we learned:
It is better to front load.
You don't need to be everything to everyone. It prevents you from being great to those that really matter.
Q: How do you go about marketing your business, and what has been the most successful form of marketing for you?
We put in place a strong overall digital marketing strategy covering all channels. Yet we have had a lot of success with Facebook online marketing.
Q: What would you say are the top 3 skills needed to be a successful entrepreneur – and why?
To be a successful entrepreneur you need to be:
Flexible: in order to adjust on a moment's notice because that is what our customer's do
Understanding: to the employee and customer's needs and have them be in front of your business needs, eventually aligning all three ensures your success.
Confident: to know that everyday you do that best you can do and not many people have the guts to do it.
Q: What are the top 3 online tools and resources you're currently using to grow your company?
and our own in house custom automation tools.
Q: What are three books you recommend entrepreneurs to read?
Q: What is your favorite entrepreneurship quote?
"Give more than you take. That's how you win."
Q: How can our community get in touch with you?
Melissa De Luna-Ribeiro – Melissa@joybird.com Public Relations www.joybird.com
Twitter: @wearejoybird
Instagram: @wearejoybird
Angelist: https://angel.co/joybird