"I learned you have to test, get feedback early on and use data to improve the software, not assumptions. "
Mailbird is an Integrated email and productivity client based in Bali, headed by CEO Andrea Loubier.
Mailbird are genuinely passionate about driving working efficiencies for better use of time. They stick to this idea in the way they are growing their business. Growing into China, on mobile, and with more and more functionality and user experience projects each day – through close communication with their client base.
Q: Please tell us a little bit about your company – what is Mailbird all about?
Mailbird is an all-in-one communication platform with productivity in mind, and email at it's core, built for Windows OS
We are all about helping people better manage the influx of information exchanges made online. This means heightened levels of productivity through reducing repetitive tasks to enhance their efficiency and make the most of their time.
Q: Please tell us a little bit about your background and how you started your company?
My background is in project management for market research and content marketing. I know the stresses of drowning in emails and the impact this can have on getting the most important things done.
I've always worked on Windows machines and was envious of friends on Mac who had these really awesome and well-designed email clients. On Windows I was limited to Outlook, Thunderbird, Postbox and other old-school alternatives, none of which delivered what I really needed.
I wanted a tool to help me manage my email effectively, quickly, adapting the needs of my clients who varied in their choice of communication channels. Mailbird came about when my co-founders and I took notice of the big Sparrow acquisition by Google. There was definitely something there, and a big window of opportunity for building the "Sparrow for Windows" as we were referred to.
Today, Mailbird is much more than what Sparrow was for Mac users. The best part is that it is specially made for people on Windows, like myself and about 90% of the OS market share. Windows has very much been an underserved market when comes to awesomely designed communication applications. It works with multiple email accounts, it's speedy and has amazing apps integrated that people around the world love like Evernote, Dropbox, Todoist, WhatsApp, Twitter, LinkedIn, FollowUpCC and more. We've come so far over the last few years and have an amazing product already, but we are just at the tip of the iceberg.
Q: What are some of the projects you are working on right now?
Mailbird is a global product. Through working with translators we are pushing this to new markets. We are currently working on rolling out Mailbird in China with character based language support. This is a really interesting space, considering the number of apps that are hugely popular around the world like Gmail, Facebook and Twitter, which are blocked in China due to their policies on internet censorship.
Learning about cultural nuances that vary from our larger market of users being from primary English speaking countries has been fascinating. We continue to test, learn and expand our reach in China and are very excited for this new market penetration for Mailbird.
Our next big development is the import function, allowing people to easily move all their email accounts and settings to Mailbird. We are making the initial setup and the user experience for first time users switching to Mailbird just that much better.
When people ask why a particular feature has not yet been included it is because our team are dedicated to the details. Quality takes time and patience. We also have an amazing group of Mailbird alpha testers that help us with these new project developments in Mailbird. If you are up for the Mailbird Alpha tester challenge just email me at al @ getmailbird.com.
Q: What are your plans for the future, how do you plan to grow this company?
Right now, our focus on to keep delivering the best for online communication and productivity for people on Windows. The next step will be to looking at unifying the experience across many devices. Mailbird is Desktop, Laptop and Tablet ready. Next will be to look at bringing the Mailbird experience to Windows phones – especially with Microsoft's developments in the Universal Apps Platform.
We will also continue to connect with amazing communication and productivity app partners to build on top of the Mailbird core email product. We are also looking at differentiating Mailbird to deliver specific value to SME's and tapping into the B2B market to grow. We are also entertaining the idea of taking in a large series A investment round in the next year to amplify our growth initiatives. Very exciting times for us!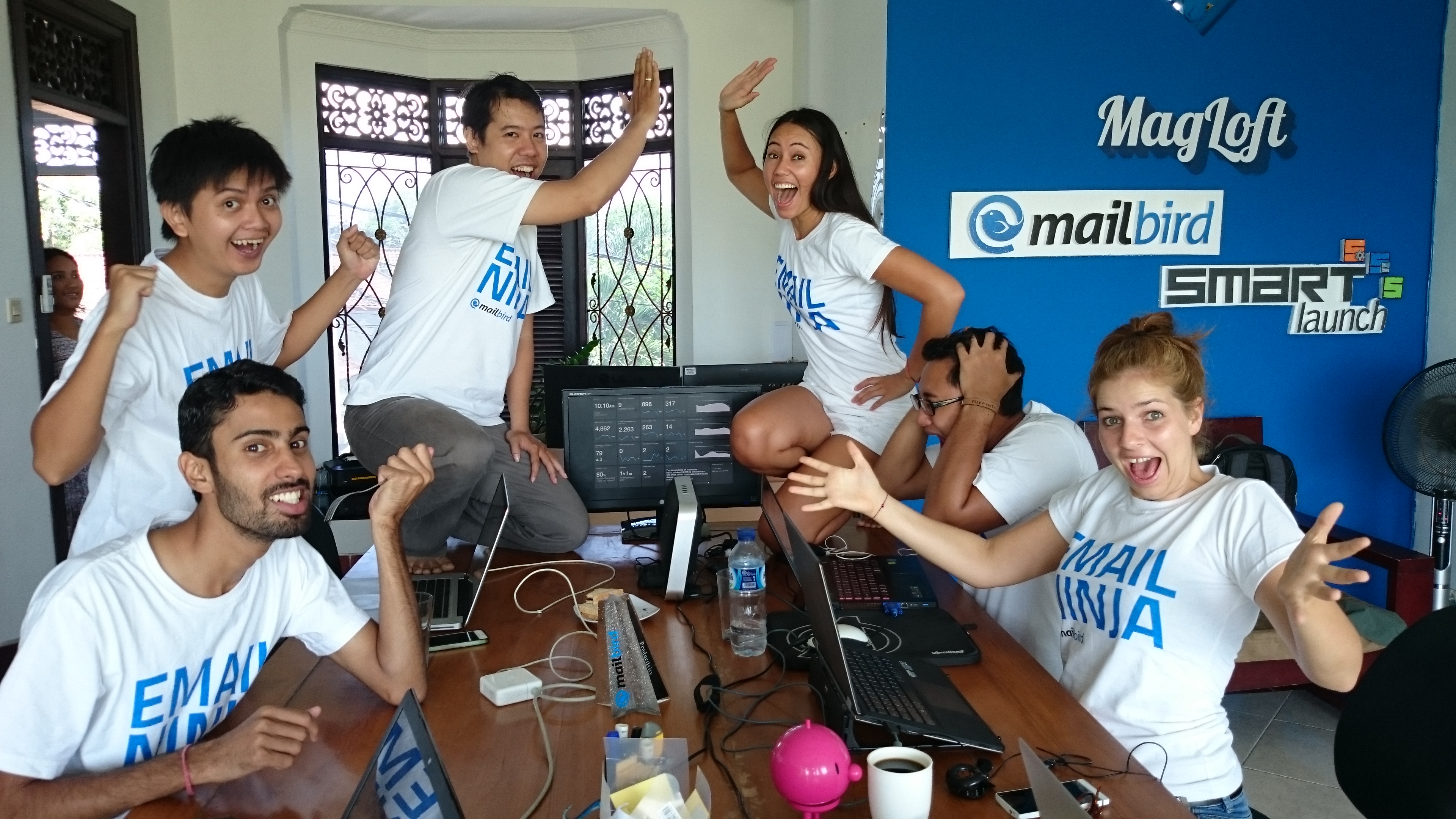 Q: How do you bring ideas to life?
Ideas are the easy part, it is the execution that is harder. We usually meet with the team and implement a tight agenda with solid topics decided in advance to be discussed.
We actually use tools integrated with Mailbird – like Asana – for these planning sessions. If we cannot meet in person we use video meeting – from our app partners, like Veeting Rooms and AppearIn. We set clear objectives with defined outcomes. It is then very important to measure success, and leverage necessary resources to bring the idea to life, in the most effective, productive way possible.
Q: What's one trend that really excites you?
Machine learning is a really exciting trend for me. Data driven decisioning and predictions is key to what we are doing with Mailbird. Microsoft is already doing many cool things with this technology, which is great for us being on the Windows platform.
Q: What were the top 3 mistakes you made starting your business and what did you learn from it?
Making assumptions about our customer base – I learned you have to test, get feedback early on and use data to improve the software, not assumptions. Don't use assumptions, use hypotheses that you can test.
Spreading the team thin – I learned that you need to plan in advance for growth and not wait for the last minute to start hiring new talent. You get more done when you can give team members focus so they can dedicate themselves to delivering the best results for their core responsibility rather than trying to do too many things, not so well, all at once.
Taking the time to hire the right people – I learned that you should never rush these things. It is important to be 100% sure you are hiring the right person, through diligent testing and interviews. Consider how they will fit with the team culturally, their passion for what they do, and the quality of their final outputs. Otherwise risk wasting resources trying to  fix an issue, with a non-dedicated team member.
Q: How do you go about marketing your business, and what has been the most successful form of marketing for you
We use a mix of paid advertising, content marketing, email marketing, in-app marketing and PR. The most successful to date has been PR, because it's all about building relationships and getting that big story covered that reaches to your target audience. That's how you can tap into that viral K-factor, word of mouth and organic growth.
Q: What would you say are the top 3 skills needed to be a successful entrepreneur – and why?
Strong drive to learn

Resourcefulness.

Persistence.
What are the op 3 online tools and resources you're currently using to grow your company?
Canvas. Mixpanel mobile and web analytics platform.
Email – it is the most common form of business communication, you just need to use it right!
Q: What are three books you recommend entrepreneurs to read?
The Hard Thing About Hard Things. Brutal honesty from Ben Horowitz.
Marketing to Win by Jacqueline Biggs.
The Martian by Andy Weir. This is a Sci-fi book, but all about solving problems and never giving up.
Q: What is your favorite entrepreneurship quote?
"Success is walking through failure to failure with no loss of enthusiasm." – Winston Churchill
Q: How can our community get in touch with you?