"Overcoming difficulties is part of an entrepreneur's journey. Our best advice is to never give up."
Today we speak with Pierre-Louis, Nikolay and Axel the founders of Streamroot, a peer-to-peer accelerated video platform for broadcasters to stream live or on-demand content with faster network connections designed to cope with a quickly scaling global audience.
Q:  Please tell us a little bit about your company – what is Streamroot all about?
Streamroot was created to help broadcasters overcome one of the biggest challenges facing the web today: the explosion of video traffic. Today video represents over 60% of worldwide internet traffic, and this figure is set to jump to over 90% by 2018.
While online broadcasters compete to offer the best quality of service, this is becoming more and more difficult as demand skyrockets. Big names in online media already struggle with over-capacity, buffering and poor quality of service, especially during widely viewed broadcasts such as show premieres and sporting events.
As a solution to this problem, Streamroot has developed a new video delivery layer using peer-to-peer protocols – or what we like to call peer-accelerated streaming. While online video delivery was traditionally based on one-to-oneconnections between the viewer and a host server, our technology connects users watching the same stream, allowing them to obtain content from the source that can provide it the fastest, whether it be from the server or another viewer. With this additional delivery layer, they can:
dramatically reduce their bandwidth costs while multiplying the capacity of their servers
reach their audiences more efficiently to ensure better quality of service
better handle traffic spikes, making it economically and technically feasible to stream HD and 4K videos to large audiences
Best of all, this is completely safe for broadcasters, and requires no plugin or extension on the viewer's computer!
Q: Please tell us a little bit about your background and how you started your company?
I met my two co-founders (Axel Delmas and Nikolay Rodionov) while we were students at Ecole Centrale Paris – a leading French engineering school – in 2009. In 2012, we started tackling the problem of buffering and poor online video quality, and won a university-wide award for the first prototype we released. The project immediately received significant interest from the online video industry, and we decided to continue the entrepreneurial pursuit. Today Streamroot has offices on two continents (in Paris and New York) and has an awesome team of 15 people committed to building the next generation of video streaming!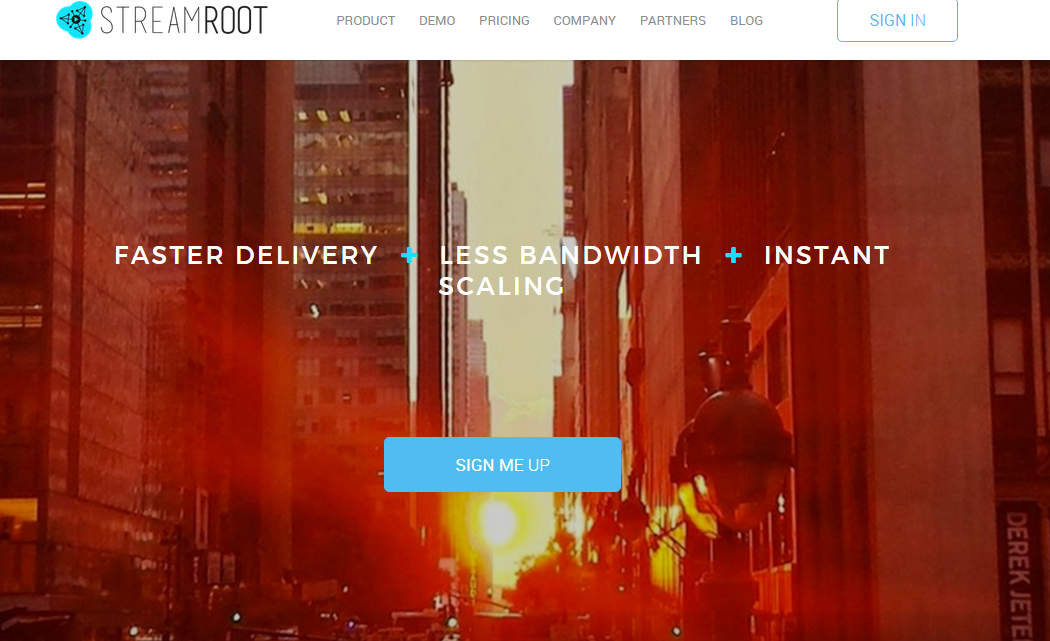 Q: What are some of the projects you are working on right now?
We are currently working on unique SDKs to make Streamroot's technology compatible with all streaming devices: Smart TVs, mobile phones, tablets, set-top boxes, etc. This is a key part of our strategy for the company, as more and more people are consuming live and on-demand video content not only on their computers but on a variety of devices.
Q:  What are your plans for the future, how do you plan to grow this company?
We are very excited to announce that we have just completed a $2.5 million seed round! Streamroot will be growing a lot in the coming months and we'll be using this capital to expand our team and bolster our position in both Europe and the US.
Q:  How do you bring ideas to life?
We have an amazing team of talented people who constantly strive to build the best product, capable of tackling the colossal bandwidth issues online broadcasters face today. We've built our team to be ambitious and bold, and we give them the means to reach their objectives.
Q: What's one trend that really excites you?
The tremendous growth in video consumption; video streaming is becoming the most popular way to consume media and it's exciting to be part of this challenge!
Q:  What were the top mistakes you made starting your business and what did you learn from it?
Entrepreneurs always make mistakes. The real challenge is to learn quickly from them. The number one mistake we made was not hiring people soon enough. The three of us thought we'd be able to handle it all, but we were clearly overwhelmed. We underestimated the amount of work required to build a product from scratch, and certainly lost a lot of time and energy.
Q: What would you say are the top 3 skills needed to be a successful entrepreneur – and why?
Perseverance: Overcoming difficulties is part of an entrepreneur's journey. Our best advice is to never give up.
Focus: Always keep your objective in sight. Entrepreneurs must be devoted to building the best possible product or service.
Flexibility: Nothing is going to end up as planned. A startup should be able to adjust quickly to the unexpected.
Q:  What are the top 3 online tools and resources you're currently using to grow your company?
Salesforce for customer relationship management
Intercom for real-time communication and technical support with our clients
Workable to manage our recruiting process
Q:  What are three books you recommend entrepreneurs to read?
The Founder's Dilemma by Noam Wasserman – a must read before starting your company.
The Hard Thing about Hard Things by Ben Horowitz – to help solve tough problems through concrete advice.
Venture Deals: Be Smarter than Your Lawyer and Venture Capitalist – for reliable information on venture capital deals.
Q:  What is your favorite entrepreneurship quote?
"Never give up. Today is hard, tomorrow will be worse, but the day after tomorrow will be sunshine." – Jack Ma (Alibaba's CEO)
Q:  How can our community get in touch with you?