"Our marketing strategy is centred around the use of social media. We use Facebook, Twitter, and Instagram to engage and build rapport with our audience."
Today we meet Javed Hussain, the founder and CEO behind Alif Baa: an edtech platform that teaches children the Arabic alphabet.
Q: Please tell us a little bit about your company – what is Alif Baa all about?
In 2014, I founded Alif Baa with a group of friends to create exceptional, enjoyable games that educate young children. We believe learning should be fun and an experience parents and children can enjoy together. We launched our first app in February 2016, teaching children the Arabic alphabet. By progressing through a series of gamified learning objectives, the child is able to learn this complex topic in a fun and easy way. The pace of each lesson plan varies based on the child's needs, and parents can customize the app to create the best possible learning experience for their child.
Q: Please tell us a little bit about your background and how you started your company?
I have always had an interest in mobile technologies and app development. After months of researching the edtech market and designing Alif Baa to be a great educational tool, we narrowed our focus to help children learn the Arabic alphabet. Learning Arabic is a pretty niche goal, and so we were able to develop a comprehensive understanding of the market demand and the room for growth. With this understanding, we have been able to create an app that provides a simple framework to help children learn, while being fun at the same time. We are really excited about the future of apps, especially within the educational gamification space as there is a real opportunity to transform and shape the way children of tomorrow learn.
Q: How do you bring ideas to life?
At Alif Baa we believe that is important to plan extensively and conduct market research before trying to bring any ideas to life. Our first step is to verify that there is a strong demand for our ideas. We create detailed plans for the service, lay out a strategy, and then execute. We also collaborate with focus groups throughout the development cycle. We rely on their feedback to ensure that are connected with our customers and that we grow in the right direction.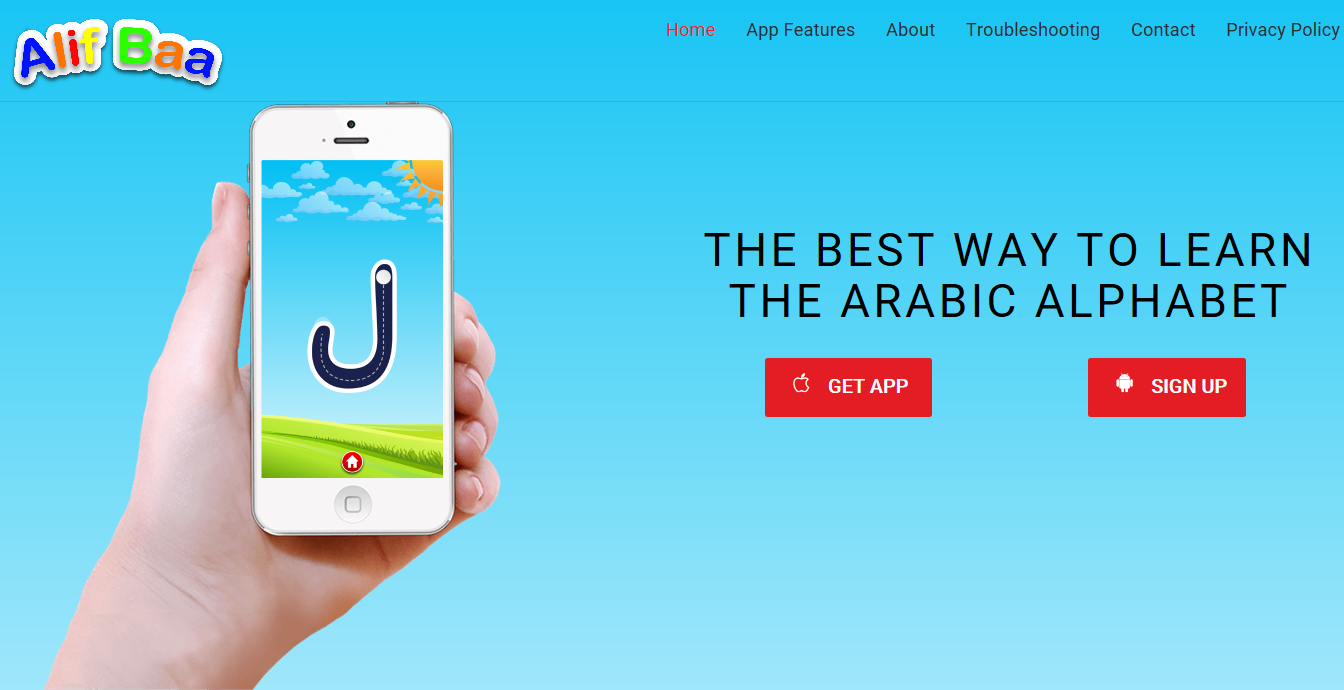 Q: What's one trend that really excites you?
What really excites me is the explosive growth of educational technology products for children. Parents want to be able to educate their children from home, and new edtech platforms and technologies mean this is possible.
Any parent with the right technology can download an app for their child to help support their learning. As mobile technologies continue to evolve we will no doubt see even more great things – with 3D touch, AI and even virtual reality in the home. All of these new technologies have the potential to dramatically reshape education for children around the world.
Q: What were the top 3 mistakes you made starting your business and what did you learn from it?
The journey so far has been challenging, but also fulfilling and rewarding. It is hard to pinpoint 3 mistakes per say, as all of our mishaps have contributed to a greater understanding of the the product we are building. If I had to start over tomorrow though, I would opt for a more agile approach to the development of our platform. By this I mean I would have multiple development projects running simultaneously, as opposed to just developing one dimension of our platform at a time.
Q: How do you go about marketing your business, and what has been the most successful form of marketing for you?
Our marketing strategy is centred around the use of social media. We use Facebook, Twitter, and Instagram to engage and build rapport with our audience. This can be time-consuming, but cultivating and fostering these relationships allows us to take a user centered approach to our development that ultimately leads to a better product. Mediums such as these allow us to reach a global audience. Facebook has worked really well for us and currently we are have an average sponsored reach of 20,000 users a week.
Q: What would you say are the top 3 skills needed to be a successful entrepreneur – and why?
The first is being able to plan and execute on your ideas. Planning, thinking, and discussing are all great, but unless you have something to show for it, you're not going anywhere. The second is that an entrepreneur needs to be prepared to take calculated risks. The third important skill is to embrace the psychology of being your own boss, which feels nothing like being an employee.
Q: What are the top 3 online tools and resources you're currently using to grow your company?
We are active on all major social media platforms. Beyond this, we use cloud-based technology, like Dropbox and the Google Apps for our everyday file management. These platforms support multiple-user collaboration, and this means our globally distributed team is able to communicate and work together better. We also use Skype to video conference and share our screens.