Brian Rice talks about how he founded the popular business content publishing website - Business2Community.
Brian Rice discusses how he founded the popular business website Business2Community. This online publishing company's main goal is to help businesses build deeper relationships by engaging their communities. In this interview, Brian shares his story of how he managed to start an online community which publishes thousands of posts every month.
Q

: Tell us a little bit about your background and the start-up story behind Business 2 Community.
Brian:  I work full-time at SAP as part of the Social Media Strategic Services Team where I run our social listening program.  In addition, I am an adjunct professor at Cabrini College where I teach Principles of Marketing as well as Online Marketing.  Back in May of 2010, I launched B2CMarketingInsider.com (with the design work of Dan Criel) as my personal blog which eventually became the launchpad for Business2Community.com in March of 2011.  While I enjoyed having a personal blog, my interests quickly shifted to the idea of building a community of peers that were sharing their collective knowledge.
Q

: What are some of the projects you are working on right now?
Brian:  Right now we are working on creating a more formalized newsletter as well as an on-going webcast series.  Both of these projects are being designed with the goal of creating more exposure for our contributors and creating additional great content for our audience.
Q

: 

Do you or have you owned any other businesses in the past, if so what happened to them?
Brian:  Prior to joining SAP, I worked at a start-up that was focused on building an online community around environmental issues and education.   It was a great learning experience but ultimately it never reached a critical mass.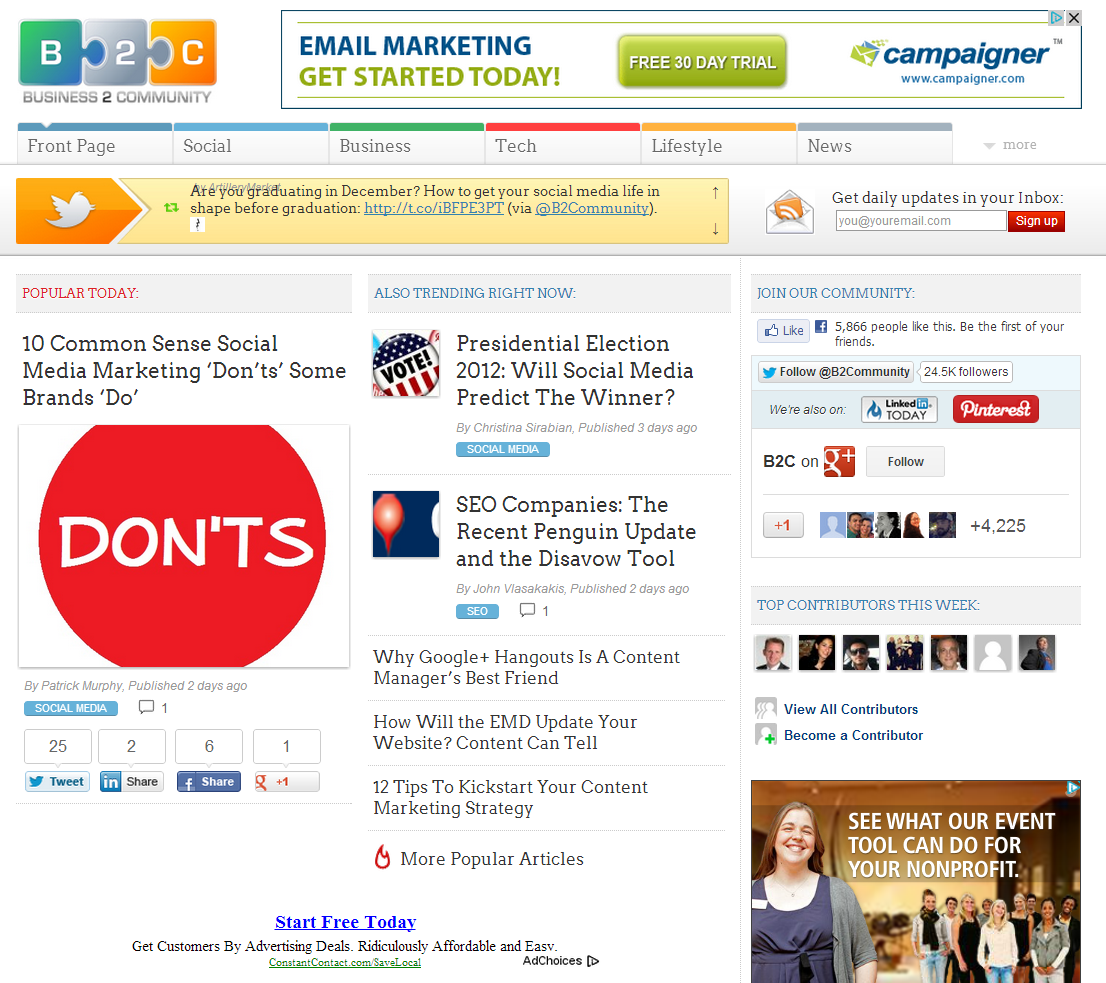 Q

: Business 2 Community has a lot of contributors, so how do you decide which post to publish?
Brian:  I am proud of the fact that the site as maintained an open approach to participation and in return we simply ask that our contributors avoid being self-promotional. On average, we are currently publishing over 100 posts a day across roughly 40 categories.
Q

:

Please s

hare a few tips and advice for first time entrepreneurs.
Brian:  The top three pieces of advice that I can give are:
1) evaluate to ensure there is a large enough market for your product/service and that it is not oversaturated.
2) be passionate about what you are doing.
3) make time for your family as they are your biggest supporters.
Q

: What would you say was the tipping point for your business?
Brian:  After about three months of blogging every day, my personal blog was listed on AdAge's Power 150 list of top marketing blogs.  It was at that moment that the number of requests to guest post increased tenfold and has not subsided every since.   A few months after that the blog was included in Google News and the audience size skyrocketed and continues to grow at a steady pace.
Q

: 

What is one thing you know now that you wish you knew before starting Business 2 Community?
Brian:  Honestly, nothing.  One of my biggest joys from the site has been the fact that every day I am learning something new through trial and error and feedback from the community.
Q

: What was the best entrepreneurial advice you have ever been given and by whom?
Brian:  My grandfather always told me to focus on understanding the roles/pain points of others in the organization and work towards finding ways to help them solve these problems in a more efficient manner.
Q

:

 
What 3 pieces of advice would you give to anyone looking to start an online community such as Business 2 Community?
Brian:  I would begin by establishing your own "voice" online, building trust amongst your peers and creating an environment that highlights those that participate in your community.
Q

: 
What is your definition of success?
Brian:  Loving what you do and having a positive impact on the world.
Q

: What is your favorite success quote?
 Knowledge and discipline are the keys to success."
Thanks for letting me participate in your interview series.  For those that are interested in contributing to Business2Community.com simply email us at contribute@business2community.com.
Connect with Brian Rice