Marissa Evans founder of GO TRY IT ON talks about how she went from having an idea to launching her business.
Marissa Evans is the founder of Go Try It On, the mobile app that allows you to share photos of yourself to get real time feedback on wardrobes. Marissa started her company in 2010 when she saw a need in the market, but today she talks about how she went from having the idea to launching the platform.
Q:
Please tell us a little bit about your company – what is GO TRY IT ON all about?
Marissa Evans:  I would noticed how my girlfriends would get ready, and how it was always a conversation….We'd ask each other for opinions, and for feedback. After moving to New York City, and living alone, I would find myself with no one to ask for feedback when getting ready to go out. I thought it would be cool if there was a marketplace for people to come and go and give and get advice on what to wear and what looks good. It would have to be mobile because the whole idea was founded in the access to real-time information.
Q:
Please tell us a little about your background and how you came up with the Idea?
Marissa Evans:  I launched Go Try It On in March 2010. Prior to this business I was working at Digitas a digital brand agency consulting for large businesses such as Delta Airlines, Samsung and Sanofi Aventis. I started my first company in 2005, this was a personalized merchandise company. I attended Harvard Business School and Cornell University
Q:
What are some of the projects you are working on now?
Marissa Evans:  We just launched a new app called "ootd" (Which stands for "Outfit of the Day"! This app allows people to vote on the very best outfits from Instagram and each night there is a winner!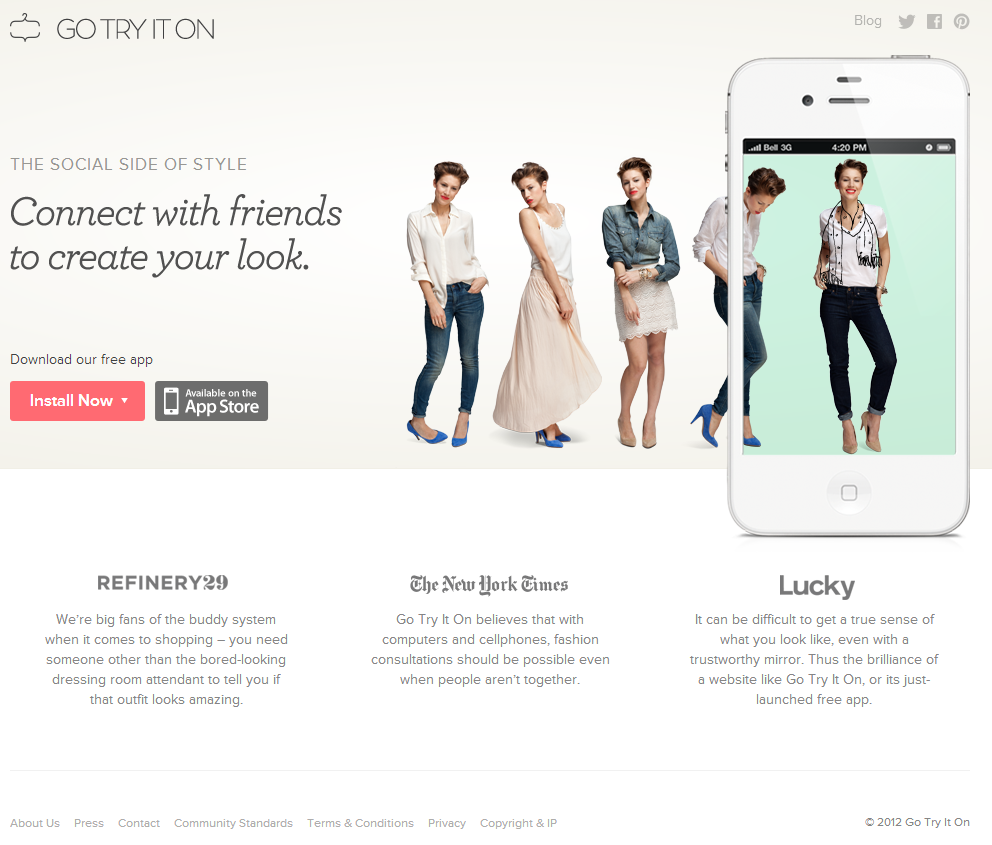 Q:
Can you please share some of the tactics you use to grow your business?
Marissa Evans:  Marketing and product development are very linked in an early stage startup. We launch new features and refine our product and then try and spread the word through key users.
Q:
What was the best business advice you have ever received and who gave you this advice?
Marissa Evans:  Natalie Massenet, founder of Net-a-Porter said that you have to create the vision of what you want your business to be in your mind. You have to really picture it…down to the windows, the walls… And then you can start to create it.
Q:
What was the biggest problem you encountered with GoTryItOn and how did you overcome it?
Marissa Evans:  In the early days our first version of our iphone app was slow and we had limited resources to scale and make updates quickly. Those days were always really tiresome and challenging. We kept at it, tried new methods quickly and of course got better at it.
Q:
W
hat are some of the most useful tools & resources that helps you grow your business?
Marissa Evans:   YouTube, and Instagram
Q:
What's your definition of success?
Marissa Evans:  A world where everyone who has to get dressed in the morning uses Go Try It On.
Q:
What is your favorite entrepreneurship quote? 
Marissa Evans:  Teddy Roosevelt's quote about the man in the arena…
"It is not the critic who counts; not the man who points out how the strong man stumbles, or where the doer of deeds could have done them better. The credit belongs to the man who is actually in the arena, whose face is marred by dust and sweat and blood; who strives valiantly; who errs, who comes short again and again, because there is no effort without error and shortcoming; but who does actually strive to do the deeds; who knows great enthusiasms, the great devotions; who spends himself in a worthy cause; who at the best knows in the end the triumph of high achievement, and who at the worst, if he fails, at least fails while daring greatly, so that his place shall never be with those cold and timid souls who neither know victory nor defeat."  by Teddy Roosevelt
(here is a link to the quote: http://www.theodore-roosevelt.com/trsorbonnespeech.html)
Q:
How can our community get in touch with you?
Marissa Evans:  My twitter is: @mevans1