Michael talks about how he grew Blackboard into a billion+ dollar company, and also what his plans are for his newest project SocialRadar.
Michael Chasen is the former CEO & co-founder of Blackboard,  an e-learning software company . Michael is now the founder of SocialRadar, which is bringing cutting edge technology that gives you real-time information about the people around you.
I was lucky enough to connect with Michael recently, and he agreed to share his journey with us. In this interview he talks about how he grew Blackboard into a billion+ dollar company, and also what his plans are for his newest project SocialRadar.
Q: Please tell us a little bit about your company – what is SocialRadar all about?
SocialRadar was founded on a singular vision: everyone connected.
Today there are over 1.1 billion people that have smartphone devices that can broadcast their locations. Over 2.8 billion people have social profiles online.  In the future, technology will inevitably combine your smartphone's location with the power of your social network.  When you walk into a room, you will already be aware of the people around you and how you are connected to them.
We are building that technology today for the iPhone, Android and Google Glass – technology that we believe will change the way people connect.
Q:
Please tell us a little bit about yourself and also how you started your business?
I'm an entrepreneur at heart. I started my first company when I was 12 and most recently founded SocialRadar after a successful run as the co-founder and CEO of Blackboard, an eLearning software company used by over 20,000 institutions in more than 70 countries, with over 20 million students and faculty users.  During my tenure, Blackboard grew from two employees to over 3,000 with 21 offices around the globe and a financial position of ~$620m in pro-forma revenue and $165 in cash EBITDA in 2012.  I took the company public in 2004 on the NASDAQ at a valuation of just over $400 million and eventually sold the company in 2011 for $1.7 billion.
I started Blackboard with the idea that Internet technology was going to change teaching and learning around the world – and it did.  I now believe that location and social technology is going to fundamentally change how people connect and discover the people around them.  I would like to be a part of that change with SocialRadar.
Q:
What are some of the projects you are working on right now?
We are just a few months from launching the SocialRadar beta. At this time I'm heavily focused on design and development work to ensure a successful launch. We have a talented UI team who is designing the app to reflect the updated look and feel of iOS7 and we've rapidly staffed up our development group with some of the best in the business. I'm also excited about the progress we've made on the development of an app for Google Glass.
Q: Say I was starting my own version of SocialRadar today, what advice would you give me?
Never underestimate the power of hiring great talent. Trust me, I know that's easier said than done. But throughout my career I made sure that I truly looked for people who were smarter than me. With those people there is honest debate. They also challenge us as a company to reach our company goals.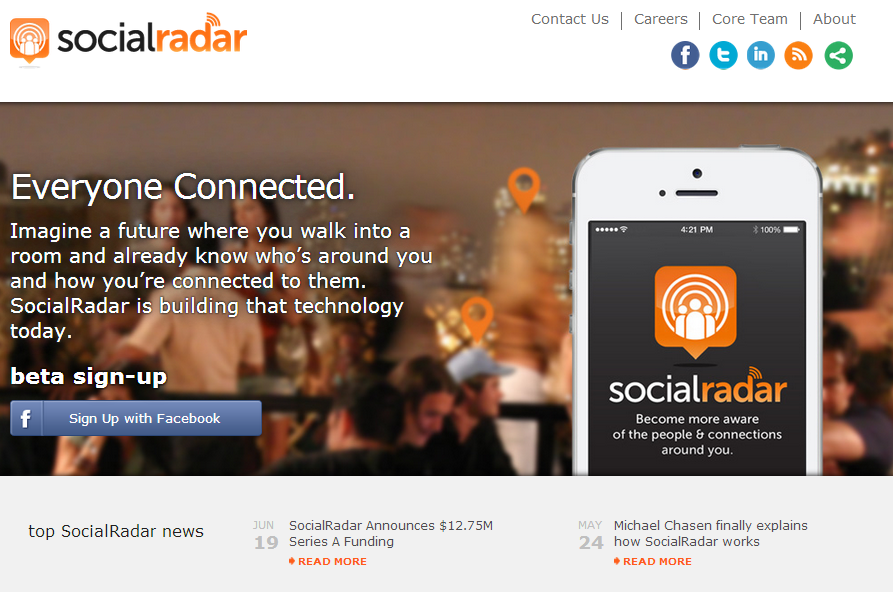 Q:
Can you please share some online marketing tactics you currently use to grow your business?
Our marketing mission is to create an engaging dialogue with our users. We are not building this product and company alone; we are doing it with our users so that we can always deliver an experience people want and need in their daily lives. If our users are happy then they will want to share their experience with the people around them.
Q:
What was the best business advice you have ever received and who gave you this advice?
"With great power comes great responsibility." – Uncle Ben
As you grow your business and find success, you have a responsibility to your customers and others in your business community to empower them as well.
Q:
What are the top 3 online tools and resources you're currently using to grow your business?
I am a big fan of Google Analytics – it's flexible and makes it easy to aggregate data – complimented by the use of Mixpanel after the app launch. We are also using Amazon Web Services for hosting – which is important to scaling our solution for growth. I also rely on the entrepreneurs and startups in the DC Tech community as a resource to navigate unfamiliar waters.
Q:
What's your definition of success?
My definition of success is the measure of forging a sustainable business, community and ecosystem of the products you build. Many entrepreneurs try to look to be sold or go public as an exit strategy. I have often said that going public should be just another step in the growth of your company to attain your goals of building something great.
Q:
What are three books you recommend every entrepreneur to read?
1 – Lean Startup by Eric Reis
2 – Tribes by Seth Godin

3 – The Tipping Point by Malcolm Gladwell
Q:
What is your favorite entrepreneurship quote?
"Startups are painful, stressful and at times demoralizing. You need to be a true believer in the vision of what you are doing. You need to passionate about it and love what you're doing. If you don't, there is no way you can sustain the hours, stress and disappointment. There's no way you're going to be able to convince investors, customers and most importantly recruit a world-class team if you not building something you think is going to change the world."

– Steve Blank, Entrepreneur, Mentor, and Author
Q:
How can our community get in touch with you?
I am active on all of the major social networks including Facebook, Twitter, LinkedIn and I encourage anyone to email me at Michael@socialradar.com. You can sign up for the beta of SocialRadar at www.socialradar.com.