How did I start my business? Join us as Mark Lassoff shares his entrepreneurial journey - and offer many valuable advice for new startups and tech entrepreneurs.
Mark Lassoff is the founder and President of LearnToProgram, Inc, a technical publisher specializing in creating materials to train web, mobile and game developers. Mark is on a mission, he wants to teach more people programming than any other company or organization on Earth.
Success isn't about money or "successful exits".  For some success is having the time to coach a kid's soccer team, or being able to vacation in foreign countries.- Mark Lassoff
I sat down with Mark earlier this week — where he took me on a ride through his life as an entrepreneur. From this interview, we learned how he started his business, how he plans to grow his company and most importantly, why he wants to teach programming to everyone.
Q:  
Please tell us a little bit about your company – what is "Learn to Program" all about?
LearnToProgram, Inc. is a two year old technical publisher based in Vernon, Connecticut. We produce online courses and books designed to teach people web, mobile and game programming. Currently we serve over 75.000 students from 67 countries. Our students include everyone form students to professionals to retirees who are united by the goal of learning programming.
Our goal, as a company, is to provide access to training content at an affordable price point, while still producing the highest quality courses on the market.  Our sales model is a bit unique as we distribute our courses across multiple online sales partners and through our own portal at academy.learntoprogram.tv.
We aim to be the "go-to" company for people looking to learn programming skills world-wide.
Q:
Please tell us a little bit about your background and how you started your company?
I was never good at working for people.  Let's say I have a "strong" personality.  I graduated college in the mid 90's at the height of the dot-com bubble.  Being in Austin at the time there was a dot-com company around every corner.  I worked for two of them and was laid off twice in two years.  Following my foray in to development at dot-com's I opted for something more stable and in quick succession I worked for the Gallup Poll, Dell and finally Fidelity National Financial as a web developer.  It's there I was able to hone my skills as a developer.
I was canned from Fidelity due to a change in the Texas legal structure that changed the way title insurance companies did business.  On my own I started doing web site development for the real estate industry.  That quickly grew in to my first startup- Power Plant Real Estate Marketing.  I ran that business about as poorly as one can run a business but we got lucky– We developed some proprietary code for REALTOR(tm) web sites that generated a lot of interest.  We sold that IP to a large real estate firm and dissolved the other unprofitable parts of the company.
I spent some time on projects that were pure fun after that working on PokerPages.com, PokerSchoolOnline.com, and virtual tour technology.  I also did a number of consulting gigs where I traveled to large companies and trained their programmers on current web development technologies.
Soon I was ready for a new adventure and joined a large IT services firm in central Texas where I built their web development business.  While there I cofounded Internet Broadcasting Group which invented some internet radio technology.  Our launch customers were (supposed to be) a major sports apparel company and popular beer brand.  Sadly they pulled out when the economy went south in 2007.  We were able to again sell the IP we had developed to a large radio concern.  That was a good day.
I then moved back to Connecticut and continued working as a corporate technical trainer. I had a client base that included defense contractors, insurance companies and federal government clients.  I was traveling 45 weeks a year, making great money and having the time of my life.
Then, I was diagnosed with colon cancer.
No longer to travel and teach as aggressively as I had been, I was forced to find something else to do.  I decided to put a video course up on Udemy.com, a course sales portal.  To my surprise the course did extremely well.  We incorporated that month; I hired Kevin Hernandez, as a part time course assistant.  LearnToProgram, Inc. was born.  (Kevin is now the VP of production with a staff of 5).  We grew and grew and I'm having too much fun to stop now.
Q:
What are some of the projects you are working on right now?
I am extremely focused on LearnToProgram.  I am not a big believe on taking on multiple projects with large amounts of responsibility at the same time.  My singular job is to make LearnToProgram kick-ass and grow.  I think too many startup folks think that they can grow a startup part time.  It's possible– but unlikely.  You have to be extraordinarily focused and motivated to maximize your chances of success.  I work close to 80 hours a week. I wonder how some entrepreneurs think they can make it work in 10 or 15…
At LearnToProgram we have a dozen or so initiatives going and I have a dozen more planned in my head. I more or less drive Kevin crazy with simultaneous launches. Our biggest projects right now include launching our internal Academy web site — which allows us to directly sell our courses to the public.  Previously we relied only on partners to sell our courses, but, we felt it was time to build our own portal and increase our footprint.  We're always working on new courses.  Kevin is currently managing the production of six or seven new courses which will come out in the next two quarters.  The nice thing about our business is that all the expenses are front-loaded.  Once the course is completed the income is residual.  We're also working hard on our free content initiative. We have two shows which we produce– Dev and QuickBytes– which are informative (and hopefully mildly entertaining) programs geared towards beginning and intermediate developers. We distribute these on Youtube, iTunes and soon on our own Roku channel.
Q:
What are your plans for the future, how do you plan to grow this company?
Our company grows three ways– more courses, more students and more venues to sell our courses. We will grow by focusing on all three of these channels and avoiding distractions that are non-profitable and non-constructive.
"More courses" is, perhaps, the easiest initiative to achieve.  We actively recruit course authors through several different methods and offer a generous royalty package. We base our recruitment efforts on research in to the demands of the audience so we're creating courses people want and need.  We seek authors who are teachers first and technology experts second– a formula that has allowed us to produce "best in industry" courses.
"More students" is where our online marketing efforts come in to play in a serious way.  We have several strategies that (with various levels of success) bring new students in to our learning eco-system.  It is an area we need to optimize more; however, we have been successful at bringing significant numbers of new students in through social media and content marketing strategies.  We will continue to optimize and improve these strategies to give us the best possible ROI.
"More sales venues" is a third and important growth point.  With digital media there are numerous ways to package content and sell it.  We turn our media in to video courses, books, DVD's, and other distributable packages.  Our guiding principal when it comes to working with new media or sales partners is that the unit cost of a sale must be $0.  Where we can find additional distribution or sales venues congruent with that value we'll move forward.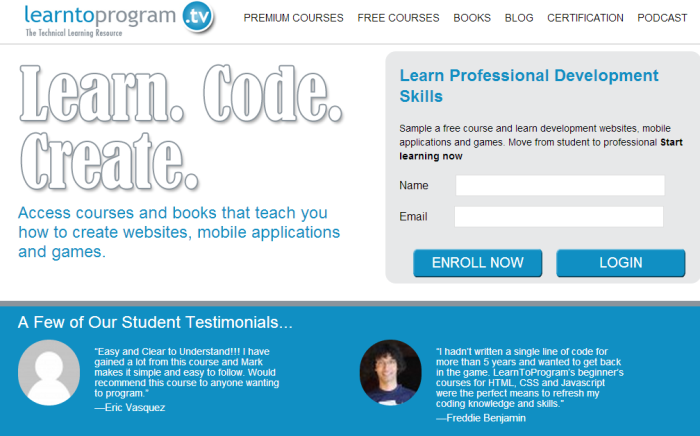 Q:
What are the top 3 mistakes you made starting your business and what did you learn from it?
This is my third business. I am making "better" mistakes then I did with my first business but I still make mistakes.
The top 3 mistakes that I made:
A) Hiring too quickly:  Interviewing well is not the same skill set as working well. Don't fall in love with someone at an interview.  Do better due diligence before hiring and don't go with your gut. Team is critical and an employee who under-achieves– even if they talk a good game– is going to bring down your whole team
B) Not Firing Fast Enough:  When you make that poor hire, rectify it quickly.  Having others on your team steaming about an employee not pulling their weight is a bad situation.  Rectify it quickly.
C) Messy Books:  I am an awful accountant.  Mostly because I am impatient.  However, noting paying enough attention to the books will come back to bite you later.  Spending the time to keep your books correct is a lot better than paying a CPA to do it!
Q:
Please share some advice for new tech entrepreneurs, someone who's just starting out.
Don't listen to the common wisdom.
The common wisdom is riddled with survivor bias, paternal slant and cognitive distortion. Whatever your success story is, it won't have much in common with the ones you're hearing now.  The problems other encounter in entrepreneurship won't be the ones that you encounter and your path will be unique.
Dispensing "wisdom" to entrepreneurs in the form of books, courses and blogs has become a for-profit industry. The book you buy from Amazon wasn't written to make you successful– It was written to make the author successful.  Keep that in mind.
There is no magic.  There is no "viral" growth.  There are no overnight successes.  The best thing you can do to insure your success is to work.  Work hard. Work ethically.  Share with others.
Q:
What was the best business advice you have ever received and who gave you this advice?
In Austin, I was fortunate enough to work with Pierre Kerbage on his second venture.  Pierre is a consummate salesman and an excellent entrepreneur.  He has started two companies that sold for seven figures without any outside investment.  What Pierre taught me that was so powerful was to fund the company off of its own profits.
I know this is not possible for every type of company out there; however, there are too many entrepreneurs who are focusing on investment when they should be focusing on sales.  The single best way to fund a company is off of customers.
With Pierre's advice in mind I started my current company for about $5,000 out of my own pocket.  The rest of the money that has financed our growth has come from customers buying our courses and books.  What better proof of concept is there?
Q:
What are the top 3 online tools and resources you're currently using to grow your company?
Mixpanel.com:  Killer analytics.  This site provides activity based analytics that are second-to-none.  I can't recommend this enough.  It has built in follow up and drip campaigns. Great system.
Dropbox.com:  We have terrabytes of video and no storage related hardware.  Dropbox allows us to conveniently store and transport our content without hassle and for much less than we would pay for a server array.  More reliable too.  Highly recommended.
Google Apps:  My whole life is in the Google.  Sharing documents is easy, no Exchange server and we can set up a new employee in about 30 seconds.  My phone and tablet are completely integrated and we don't need an IT person.  Great for startups at $50 per seat per year.
Q:
What's your definition of success?
Choice.
So many people have to work at a job they don't like, or, put their own ethics aside to earn a living. When you are successful you have choices.  You can go to work for a company, start your own business, or not work at all for a while. Success means not being trapped by societal norms and being free to do what you want.
Success is elusive, difficult to achieve and takes a great deal of patience.  However, success also comes from making the right choices — and being a bit lucky.  Success isn't about money or "successful exits".  For some success is having the time to coach a kid's soccer team, or being able to vacation in foreign countries.
Don't be influenced by my definition of success or anyone else's.  Find your own.
Q:
What are three books you recommend entrepreneurs to read?
The Toilet Paper Entrepreneur — Mike Michalowicz
Business Model Generation — Alexander Osterwalder
Should I Share My Ice Cream? — Mo Willems
Q:
What is your favorite entrepreneurship quote?
"Your time is limited, so don't waste it living someone else's life. Don't be trapped by dogma — which is living with the results of other people's thinking.  Don't let the noise of other's opinions drown out your own inner voice.  And most important, have the courage to follow your heart and intuition. They somehow already know what you truly want to become.  Everything else is secondary"

-Steve Jobs
Q:
How can our community get in touch with you?
You can connect with me via email: mark@learntoprogram.tv  or on social media Twitter, Facebook, and Linkedin.