Meet Simon Slade the Co-founder of SaleHoo, an online directory of verified wholesalers, manufacturers, liquidators and dropshippers.
Meet Simon Slade the Co-founder of SaleHoo, an online directory of verified wholesalers, manufacturers, liquidators and dropshippers.
Q:
Please tell us a little bit about your company – what is SaleHoo 
all about?
I'm CEO and co-founder of three companies, all based out of Christchurch, New Zealand. SaleHoo is an online wholesale directory of over 8,000 prescreened suppliers, with more than 50 free video lessons about how to sell successfully online. The business concept stemmed from multiple people asking me where I found my suppliers for selling on Trade Me, New Zealand's local online auction site. Affilorama is an affiliate marketing training portal with 230,000 members and over 100 free video lessons. Co-founder Mark Ling developed Affilorama's first video lessons after his friends and family eagerly requested that he share his affiliate marketing secrets with them. Finally,Doubledot Media Limited is the parent company of SaleHoo, Affilorama and a few other smaller-scale ventures.
Q:
Please tell us a little bit about your background and how you started your company?
Less than two years after graduating from Griffith University with bachelor's degrees in business management and marketing, co-founder Mark Ling and I each contributed $500 to launch SaleHoo. We either begged, borrowed money or promised an IOU for Web hosting, office space, Internet fees and other initial expenses as much as we could. If one of those methods didn't work, we dipped into our $1,000. The first four months of development were particularly exhausting because I worked on SaleHoo at night and on the weekends after my full-time job at Hewlett-Packard. I took a gamble, quit my job and spent the next four months focused on SaleHoo. Finally after eight months, our site reached 10,000 members, and our bills were paid so I could start earning a salary for myself. Our quick success motivated us to launch Affilorama just the next year.
Q:
What are some of the projects you are working on right now?
Currently, I'm developing a new social media module for AffiloTools, which is our premium suite of online tools for marketers. We're continually making improvements to the platform with the ultimate goal of making it a comprehensive marketing tool. We also recently released a new edition of AffiloJetpack, one of 18 niches of ready-made content to choose from and help affiliate marketers jump-start the launch of their websites. The new edition has brought in a lot of new customers, so we're working hard to help this influx of new members get acquainted with our program.
Q:
Quickly describe what an average working day is like for you?
At 8 a.m. I arrive at the office and spend one to two hours reviewing the operational status of all current projects and tasks. The remainder of the morning I review and reply to emails. The afternoon is dedicated to higher-level planning, developing future projects or meeting with key staff to discuss their respective responsibilities. To maximize the length of time I can work uninterrupted, I try to keep meetings on fixed days and first thing in the morning or straight after lunch. You'd be surprised how much time is wasted to simply resume a task. Finding exactly where you left off and regaining precisely the same mindset take time.
Q: 
What would you say are the top 3 skills needed to be a successful entrepreneur – and Why?
First, human resources/people skills are essential to all entrepreneurs because much of their time is spent managing others, and if you want to hire the best, people skills are paramount. Second, sales and marketing skills are crucial, especially in the beginning when most likely, you are the only employee and therefore the only salesperson. Third, negotiation skills come in handy to secure outside funding and purchase the various programs needed to run a business.
Q:
What are your plans for the future, how do you plan to grow this company?
I would love to see the SaleHoo directory be more deeply integrated with the suppliers listed. I envision customers contacting suppliers directly through SaleHoo, receiving instant quotes for products and sending stock to fulfillment centers. Integration doesn't need to stop there. SaleHoo can be incorporated with the top sales channels, such as eBay, Amazon and other online stores, so customers can source and sell through the site as a single solution.
Q:
What were the top 3 mistakes you made starting your business and what did you learn from it?
In my business' early days, I didn't seek enough advice from outsiders. Now, I regularly receive input from third parties. Second, we didn't track metrics in the very beginning, but now we track and measure key statistics on a daily basis. Third, I didn't take a break early in our companies' launches to stop and look at the big picture. Now I take a holiday every six months to reassess our business without any of the day-to-day distractions to cloud my view of the big picture.
Q:
How do you go about marketing your business and what has been the most successful form of marketing for you?
Doubledot Media's marketing strategy includes affiliate marketing, social media and media relations, but our most successful form of marketing has been content marketing. Content marketing breaks through the clutter better than other strategies because potential customers actually benefit from the communication. It's a win-win: potential customers learn something, and we are able to promote our products and services to an audience that is actually listening.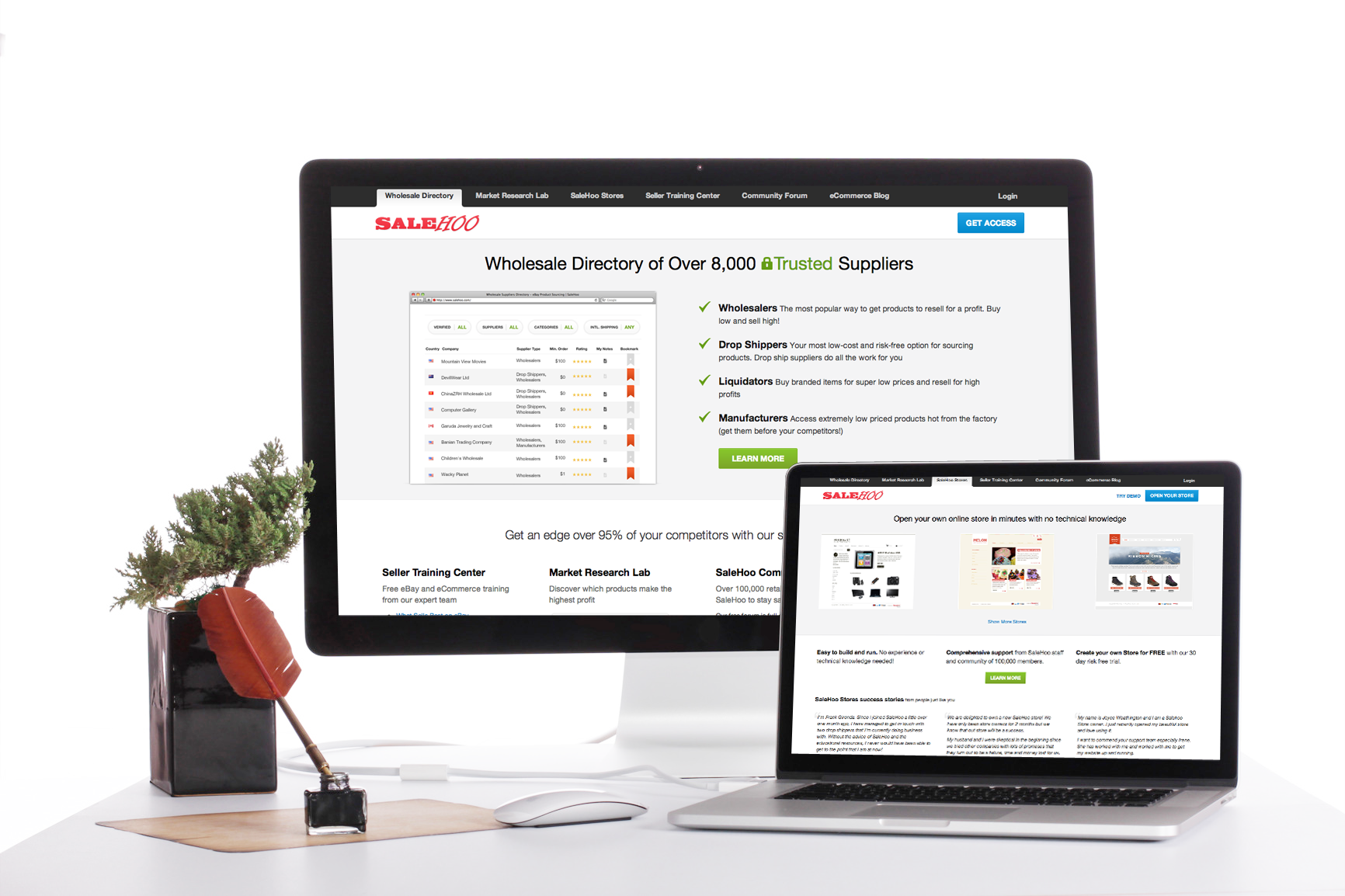 Q: 
What was the best business advice you have ever received and who gave you this advice?
The best business advice I ever received is to measure the metrics that matter. Alistair Croll and Benjamin Yoskovitz explain this philosophy in "Lean Analytics."
Q: 
Say I was starting my own version of "SaleHoo" what advice do you have for me?
It doesn't matter what industry you're in; the focus of every entrepreneur should be on the customer. If you place your customers' needs above all else, success will naturally follow because you'll be providing a product or service that actually helps. On the flipside, if your own personal motivations are at the forefront, it will show in your substandard products or services and insincere marketing pitches.
Q: 
What are the top 3 online tools and resources you're currently using to grow your company?
I use AffiloTools for the daily management and monitoring of my websites and to identify issues and address them before they become problems for our customers. Optimizely helps us maximize the effectiveness of our landing pages to improve conversion rates, and Geckoboard offers a high-level overview of our company performance with the data easily accessed by everyone in our office.
Q: 
What's your definition of success?
Success is exceeding your own expectations. For one person that might be selling enough online to afford that extra vacation, but for another, that might be earning six figures through affiliate marketing and covering the cost to quit your full-time job and pay off your debt.
Q:
What are three books you recommend entrepreneurs to read?
My favorite business books include "Remote" by Jason Fried, which explores the challenges and unexpected benefits of working remotely; "Don't Make Me Think" by Steve Krug, who discusses Web design usability; and "Lean Analytics," in which Alistair Croll and Benjamin Yoskovitz discuss how tracking the right analytics can validate your business ideas, identify the right customers, explore what new products to introduce and more.
Q:
If you had the chance to start your career over again what would you do differently?
If I was at the start of my career again, I would take even more risks. When you're young, you have less to lose and fewer responsibilities, which make risk-taking easier. Now I have employees, a wife and a daughter depending on me. Risking everything is fine when it only affects you, but it's not fair when it affects others.
Q: 
What is your favorite entrepreneurship quote?
Steve Jobs said, "Your work is going to fill a large part of your life, and the only way to be truly satisfied is to do what you believe is great work. And the only way to do great work is to love what you do. If you haven't found it yet, keep looking. Don't settle. As with all matters of the heart, you'll know when you find it." The goal of both Affilorama and SaleHoo is to help others excel at e-commerce, take control of their professional lives and become their own bosses. I wasn't satisfied in my professional life until I co-founded these companies, and I hope that our work helps our customers achieve that same level of satisfaction.
Q:
How can our community get in touch with you?
I'm all over the web; check me out at whichever social media platform you prefer:
Facebook: SimonSlade
Twitter @Simonslade
Linkedin: In/SimonSlade
Google+ SimonSlade/About