Today we learn a few things from Nikolaus Kimla CEO and founder of Pipeliner CRM, a new software built to help salespeople improve their sales pipeline.
Q: Please tell us a little bit about your company – what is Pipeliner CRM all about?
We built Pipeliner CRM because we saw the need for a better way to help businesses leverage the profitable traits of salespeople — folks on the front line of revenue. These salespeople are "entrepreneurs within the enterprise" — self-motivated and action oriented. We call them "salespreneurs." They're changing Sales, and we think they should have the best worktools.
We understand the power of the entrepreneurial personality, and we're building worktools that capitalize on the way salespeople make decisions and create processes. We're designing our CRM system to appeal to the ways salespeople think and work. Instead of top-down, management-heavy CRM directives that make salespeople cringe and turn into box-checking automatons, Pipeliner CRM is built on the notion that salespeople naturally want to sell — in fact, they're driven to it organically.  Pipeliner CRM is built to support a dynamic relationship between the sales team and the organization's top-level business strategies.
Q: Please tell us a little bit about your background and how you started your company?
Over the past 40 years I've created six businesses, three of which are still going strong today. My experience in the software industry goes back over 20 years to the founding of uptime ITechnology. It was here that I learned software development from the ground up and the company has been a resounding success. When our product, World Check, was acquired by Thomson Reuters in 2011, my attention turned to Sales. I felt that salespeople were seriously undervalued and unsupported in today's business world.
Thus began the journey that ultimately resulted in Pipeliner CRM. As an entrepreneur and a sales veteran myself, I embrace the concept that salespeople are the entrepreneurs within the enterprise. They, too, are able to discover and innovate by seizing opportunities others never would; they seek to create their own incomes and wouldn't have it any other way. They are capable of weighing risk versus reward, and instinctively knowing when to actively pursue an opportunity.
Three of my primary life journeys—as an entrepreneur, a software developer and as a salesperson / sales manager—finally coalesced into the development of Pipeliner CRM.
I set out not only to change the way the world thinks of salespeople, but to actually empower salespeople based on their entrepreneurial traits.
Q: What are some of the projects you are working on right now?
I spend a lot of time fundraising and building a major project we're calling, The Sales Education Academy, as our company is rooted in the belief that the real way to strengthen skills is to educate.
Currently we educate in our product by offering an entire series of sales instructions and playbooks. Last year we launched an extensive Sales Reference Library filled with over 35 eBooks. Perhaps most interestingly, our blog features leading experts in the field of sales, daily.
Q:
What are your plans for the future; how do you plan to grow this company?
Our mission, our goal, and our devotion is to become the first visualizing, educational sales company in the world. I have a strong belief in the transformative power of education.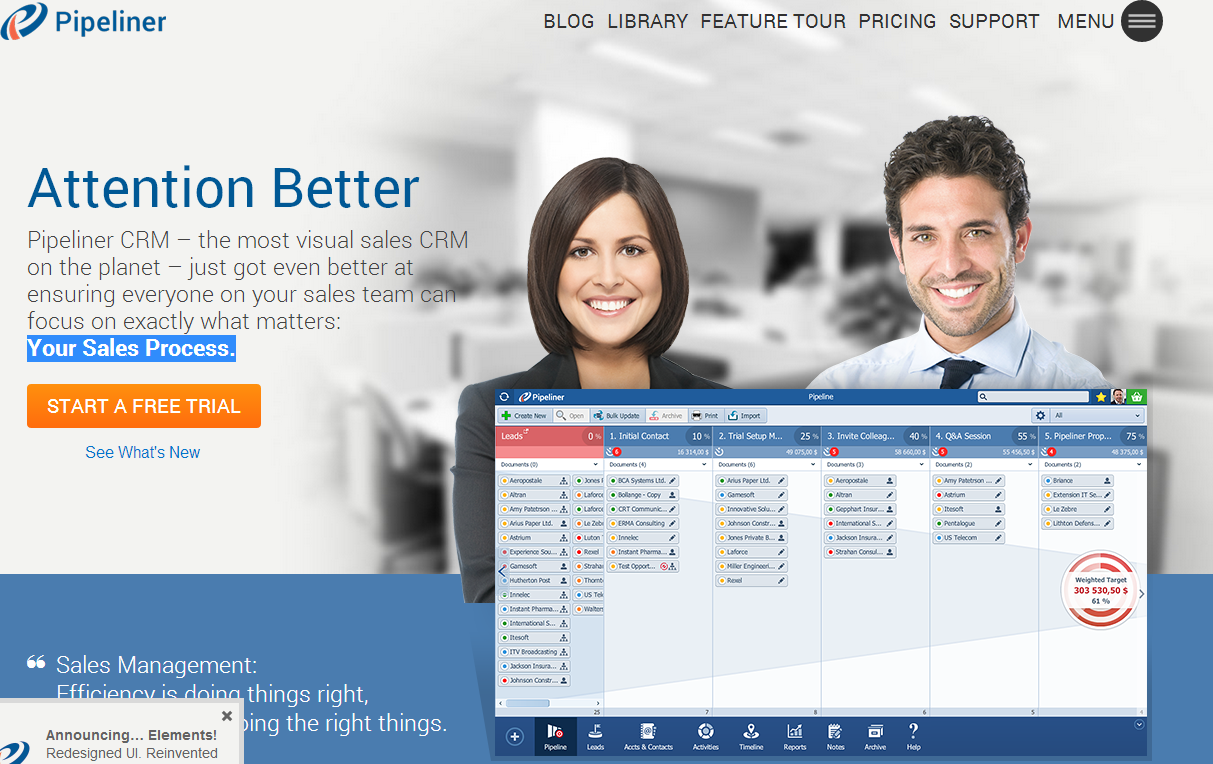 Q: How do you bring ideas to life?
Nothing happens without a great team. Our globally-distributed team understands that everything we do must be in concert with the future we see for Pipeliner CRM. As we grow, we always consider scalability.
I like to envision our company in a future state and work through the exceptional team we've built, in order to execute our ambitious goals. I'm a passionate guy and–without sounding naive–I truly believe salespreneurs can change the world.
Q: What's one trend that really excites you?
I'm very excited to see the enthusiasm that follows our product growth — the new thinking around the idea of CRM. I see our business partners, our tech partners, and analysts recognizing that a different kind of CRM — one that appeals to salespeople and supports the sales process — is necessary.
We are on the front line of that trend; we've been working toward the goal for several years. It's very affirming to know that we are making good headway.
Q: How do you go about marketing your business, and what has been the most successful form of marketing for you?
Our most successful marketing comes directly from our mission to educate salespeople. We do that by creating useful sales content, through our Website, our blog, our Sales Reference Library, across our social channels, and within our product itself. We believe in providing true business value. That value returns traffic, engagement, and ultimately conversion towards growing our business.
Q: Please share some tips or advice for new startups on how to attract the press and get media attention.
The best advice is to first identify the key media influencers in your particular industry. Then utilize a tool such as Pipeliner CRM, set up a system to nurture these relationships through social media and traditional media avenues. In many respects, press coverage is a sales process.
As influencers, analysts, and trendsetters in Sales, Marketing, and CRM become acquainted with the corporate and team members' brands, word spreads, awareness grows, and there is more and more interest from the blogging community and traditional press. Success in this endeavor is a result of continuous effort — it's not glamorous, but it pays off.
Q: What are three books you recommend entrepreneurs to read?
There are so many great books about entrepreneurs!
For a solid background in systems theory and management science, I'd recommend Managing Performing Living: Effective Management for a New Era by Fredmund Malik. Malik is a brilliant thinker, and his ideas have inspired many successful entrepreneurs.
I've written two books about entrepreneurs myself — Evolution in Progress: How the Entrepreneur is Changing the World and Salespeople Embracing It All, Your readers will find both of them available for free download.
I also recommend reading biographies and autobiographies of interesting entrepreneurs throughout history. Steve Jobs is one of my personal favorites to study and emulate.
Q: What is your favorite entrepreneurship quote?
I think Peter Drucker summed up the entrepreneurial spirit when he said, "The best way to predict the future is to create it."
I also created this quote myself, and I live by it: "Failure is the invitation to start again."
Q: How can our community get in touch with you?
Email: nikolaus.kimla@pipelinersales
Twitter @kimlanikolaus