"You need to be confident in your abilities and never give up. It's all about the hustle" - Kathleen Jennings
Beauty Now founder Kathleen Jennings recently secured funding by John Paul Dejoria, and here she discusses some of her plans to turn this new company into a giant servicing the beauty industry.
Read her story below, and learn how she went from being an attorney to entrepreneur.
Q: Please tell us a little bit about your company – what is Beauty Now all about?
BeautyNow is like OpenTable for booking beauty appointments at over 5,000 salons and spas across the U.S. From massages to blowouts to facials, the app completely eliminates the hassle of calling around to every spa or salon in the nearby area to find an open appointment. You a select the type of treatment you would like and the time, and BeautyNow uses your GPS location to display nearby open appointments and book with a few taps. No phone call confirmation necessary! BeautyNow is a seamless experience for both the consumer and the salon because our unique technology relays real-time appointment data.  BeautyNow is the easiest way to find an open beauty appointment in every major U.S. city!
Q: Please tell us a little bit about your background and how you started your company?
I practiced as an attorney at a big law firm for five years, so I didn't actually get into the beauty business until I founded the BeautyNow app and started writing the BeautyNow Blog, where I provide honest, unpaid-for opinions on beauty products and services. But for as long as I can remember, the beauty industry has always been an interest and passion of mine.
Between long hours at the law firm and then life as a busy working mom, I have always had the most difficult time booking last minute beauty appointments. I started wondering why an OpenTable for booking spa and salon treatments didn't exist. Before the BeautyNow app launched in May 2014, there was no quick and easy way to book appointments without calling  around or checking individual salon websites. BeautyNow is the first and only one-stop aggregator of real-time appointment data. Everyone is looking for convenience in their lives and BeautyNow is the solution for fast and easy appointment booking.
Q: What are some of the projects you are working on right now?
We just recently secured funding by John Paul Dejoria, beauty giant and co-founder of Paul Mitchell Products and Patron Tequila. John Paul has incredible contacts in the beauty industry so right now we are first focused on on-boarding thousands more salons that are excited to be a part of BeautyNow. We will continue offering the same user-friendly, easy beauty booking we do now, just on a much larger scale.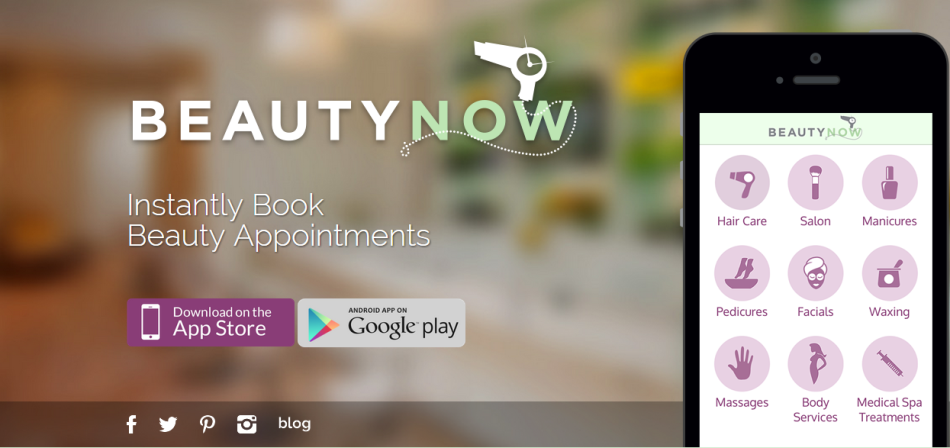 Q: Quickly describe what an average working day is like for you?
Get my kids off to school, and then spend the next eight hours glued to my computer answering emails, having conference calls, and blogging. I'm constantly working well into the night, and juggling family responsibilities in between meetings. I think every working mom is doing the same!
Q: What would you say are the top 3 skills needed to be a successful entrepreneur – and why?
Confidence and determination are the two main skills in my book. You need to be confident in your abilities and never give up. It's all about the hustle. If you really want to make something happen, you don't take no for an answer.
Q: What are your plans for the future, how do you plan to grow this company?
We get requests all the time from people who want to use BeautyNow overseas. Right now we are focusing on the huge U.S. market, but never say never.
Q: What were the top 3 mistakes you made starting your business and what did you learn from it?
Not so much as mistakes, but I've gotten my hopes up on some close calls on getting major contracts and other big opportunities. You just have to keep moving forward, know that everything works out for the best, and not to count your chickens before they're hatched.
Q: How do you go about marketing your business and what has been the most successful form of marketing for you?
I think the BeautyNow Blog has really helped establish the BeautyNow brand as a trusted source in the beauty space. The blog and social media have been the most successful form of marketing, and our growth is really viral and word-of-mouth at this point, which is exciting.
Q: What was the best business advice you have ever received and who gave you this advice?
"Ask for forgiveness, not permission" –
Q: Say I was starting my own version of BeautyNow, what advice do you have for me?
Don't be afraid to dream big and think creatively to help make the connections that will help take your business to the next level.
Q: What are the top 3 online tools and resources you're currently using to grow your company?
We use Slack to make internal communications more efficient,
Pivotal Tracker for to-do lists on the tech side,
and Salesforce to manage our sales leads.
Q: What's your definition of success?
Having the confidence to pursue your passions and follow your dreams.  Once you do that, you have all the success you need.
Q: What are three books you recommend entrepreneurs to read?
Q: If you had the chance to start your career over again what would you do differently?
I think everything has worked out for the best. I'm happy I had pursued a law degree and worked as an attorney, but I'm also thrilled to be following my passion for beauty. So I can't say that I would change a thing.
Q: What is your favorite entrepreneurship quote?
"If you don't ask, the answer is always no"
Q: How can our community get in touch with you?
Email Kathleen@beautynowapp.com
Twitter @BeautyNowApp
Instagram @BeautyNowApp