"We took too long to open our first store. Wanted everything to be perfect but that never happens. We lost two years of learnings because we were seeking perfection. Classic mistake."
Michael Kaplan CEO/ Co-Founder of Fashion to Figure, a leading retailer of plus-size fashion with a focus on quality, price and fit.
Kaplan took his great-grandmother's (Lane Bryant) idea and sought to make it applicable to today's world and the female living it. While catch phrases like "omni-channel" and "guide shops" are used today, conversely, Kaplan has built a formidable speciality retail chain the traditional way.
Q: Please tell us a little bit about your company – what is Fashion to Figure all about?
FTF is an on-trend fashion experience for women size 12-26.  We provide hundreds of fashion pieces within dressy, casual and basic categories every month at compelling prices with an emphasis on consistent fit and quality.  We offer our assortment online, in our own stores, third party marketplaces and anywhere else our customers want really.  At our essence or core though FTF is a business we created to help and inspire people through our belief that fashion is a state of mind not a size range.
Q: Please tell us a little bit about your background and how you started your company?
I am a native New Yorker and grew up around a retail business that was started by my great grandmother 117 years ago.  I think that experience was where I saw the transformation power of retail and fashion.  The business was ultimately sold by my father and my older brother Nick was the only one who endeavored after that to go into retail and have a career in fashion.  I was at business school and saw that plus size fashion options were very antiquated compared to where the customer's mindset had evolved.  I was lucky to be able to work on an idea with my brother who had the industry experience and we launched a single store together in a mall.  We lived together and worked together running that store from 10 to 10 every day for a year and half to learn this business and hone the concept.
Q: What are some of the projects you are working on right now?
Too many to list – right now we're trying to evolve our digital business to integrate even further with our store experience. We're also developing proprietary product that's uniquely crafted for the FTF woman.  We have incredible jeans at $40ish dollars that are great quality, consistent fit, stretch denim, fashion and basic styles.  In our market retailers charge north of $80 for jeans or less than $20 for crap.  We have an amazing and dependable product at a compelling price.  But with all we have going on and how stretched our entire team is, it's like drinking from a fire hose at FTF right now!
Q: Quickly describe what an average working day is like for you?
People, people and then people, and then more people.  Meeting with FTF Family Members at all levels is a big part of what I do.  And, being in stores at least once per week is also critical and routine.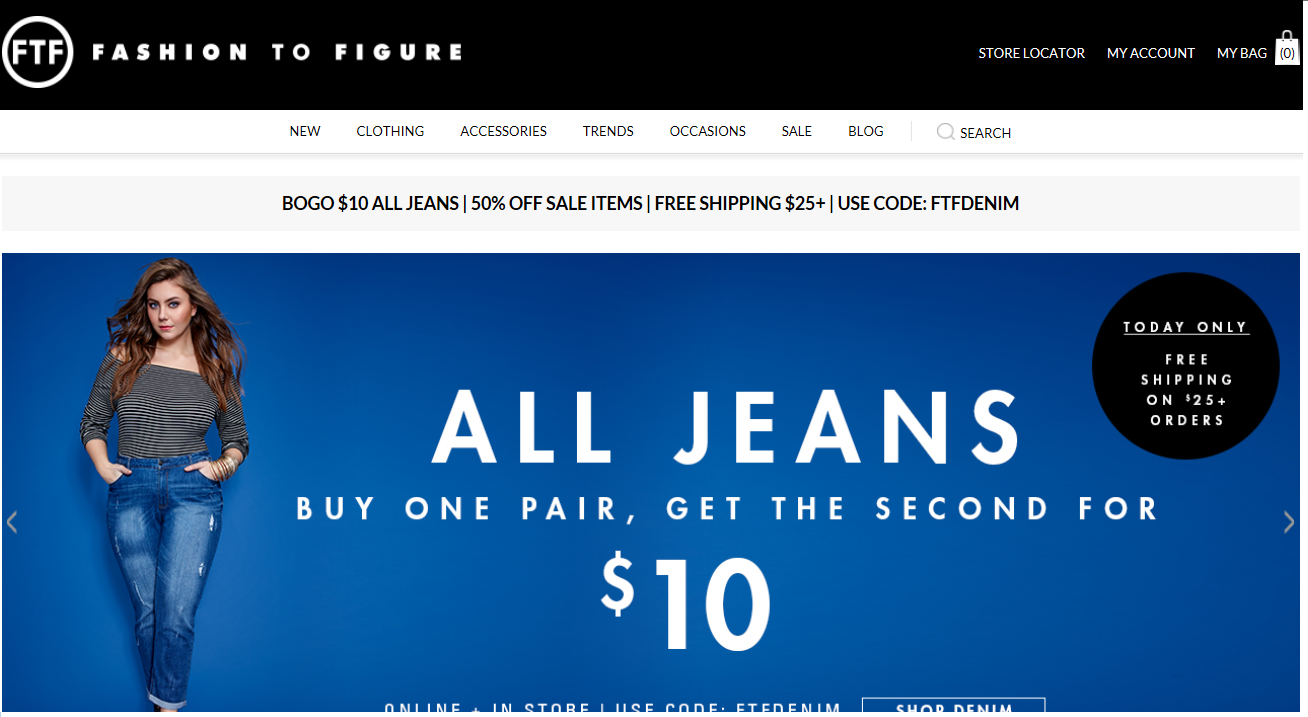 Q: What would you say are the top 3 skills needed to be a successful entrepreneur, and why?
Emotional intelligence.  You must always have the pulse of everything going on around you- to know when to hold your ground, make changes b/c the market commands it, when to hire, fire, push, pull back, when to say yes or no in the wake of not all or perfect information- generally how to read and react.
Number two is related to that – to act quickly. Quickly make a decision and make progress but also to recognize when it is wrong or broken fast and then fix it immediately.  Learn fast and implement what you learn quickly or else you'll run out of capital.
And number three for me is get in touch with passion and manage stress because everyone is smart and has access to capital so you better love it more than the competition and because you care so much you'd better manage your stress.
Q: What are your plans for the future, how do you plan to grow this company?
We have doubled in size in the last year so we are settling in right now but also evaluating growth opportunities in both stores, online and third party distribution.  We have extremely supportive investors which is critical to any venture so we are in close discussions with them and our board about our growth plans.  At the end of the day we need to do and grow how our customers ask us to.
Q: How are you funded? What is your best advice to entrepreneurs when it comes to raising funds?
As I said we have extremely supportive investors.  We borrowed $400 thousand to open our first store.  That core group of backers has remained with us throughout.  My advice is to always have more capital than you think you need, prepare for anything to happen, and be honest and report all news, good and bad to your investors.  It's unrealistic to think everything will be rosy.
Q: How many users or clients do you currently have, and when do you consider your company a success?
Every day when we get a letter or email or note about how our fashion experience made someone feel good and that they've started a multi-faceted relationship with our brand I consider us a success.  I'm lucky because this happens frequently in light of the fantastic FTF Family Members we have driving our business.
Q: What were the top 3 mistakes you made starting your business and what did you learn from it?
We took too long to open our first store.  Wanted everything to be perfect but that never happens.  We lost two years of learnings because we were seeking perfection.  Classic mistake.  Better off just getting going and beginning to climb the learning curve.
Another mistake was growing too fast with private equity – almost broke us.  Another common and classic mistake.
And a final classic mistake was not moving on from people quickly enough who we knew were wrong for our company and culture.  The fear of who would do the work or liking the people personally always gets in the way but it's ultimately not good for anyone to not have fast separations.
Q: How do you go about marketing your business and what has been the most successful form of marketing for you?
Digital marketing has been very successful, in particular online acquisition.  We have not invested in like a VC backed ecommerce company because we don't believe in that for a fashion business like ours.  However, with all our infrastructure we have today we are able to see how our customers come to us and then journey through our assets over time.  Digital penetration in areas where we have stores has been remarkable and it's a big opportunity for us.
Q: What was the best business advice you have ever received and who gave you this advice?
That's not a fair question because I'm lucky to have so many influential friends and mentors who have imparted incredible wisdom to me.  My bosses who founded RRE Ventures where I was lucky enough to be their first associate taught me so much – how to get a company off the ground, making definitive decisions, balance what the market tells you with your entrepreneurial conviction; My first music teacher (I went to Manhattan School of Music to study jazz saxophone) taught me the importance of playing wrong notes and owning those mistakes; One of our board members who was a professor of mine at business school constantly reminds me to take the long view on everything and be values driven. But, in our business today I truly learn every day from my older brother and partner Nick. From the get go he always said "Michael your passion is great and we can build a company on that but never forget in fashion and our business product is everything and tops all else in importance."  That has been transformational for me personally in our business.
Q: Say I was starting my own version of Fashion to Figure what advice do you have for me?
Hire talented people.
Q: What are the top 3 online tools and resources you're currently using to grow your company?
SEO, SEM, and Social strategies which ultimately encompass many more than three things.
Q: What's your definition of success?
Being the very best at what you do and universally acknowledged as such.  Our great grandmother invented what we do at FTF.  We want to be the best at it as acknowledged by our customers.
Q: What are three books or courses you recommend for entrepreneurs?
Everyone should be lucky enough to have Nancy Koehn from Harvard as a friend and mentor but they won't so take her courses if you can and listen to everything she says online and buy her books.
Jim Collins's books present some compelling commonalities among all great companies.  The Upside of Stress is a great book my cousin just recommended that is terrific for changing one's perspective.  But, I'm not sure anything ultimately prepares you for taking the startup or entrepreneurial plunge.  You just have to do it.  I would say the courses and reading help you make sense of it all when you're in the midst but don't wait to take a course.
You have to jump into the fire.
Q: If you had the chance to start your career over again what would you do differently?
I would have started this business as early and young as possible.  I love what I do and would do it the rest of my life if I'm allowed.  I would have started the learnings and staked out our position as early as I could have looking back.
Q: What is your favorite entrepreneurship quote?
Move on
Q: How can our community get in touch with you?
Sarah at our PR firm is my girl.