"Technology has been a big contributor to our success. We want to keep it as our focus and continue to develop our platforms to better suit the needs of our clients. "
Decorilla combines cutting edge technology with the option of in-home consultants to connect people with professional interior designers in a cost-effective way. Most recently they launched their own VR app, letting their customers curate and explore their own virtual design with the help of design experts.
Q: Please tell us a little bit about your company – what is Decorilla all about?

Decorilla is an online platform that's bringing interior design to a whole new generation. We connect customers with professional interior designers who create curated spaces based on customer style preferences and budget.
Our online platform streamlines the design process and allows customers and professional interior designers to work together. Customers on Decorilla select the style that suits them and answer a few simple questions, they then have the option to continue on the phone, online, or to schedule an in-home visit. Decorilla has designers available in 20 major cities across the US.
Today, the use of 3D and VR means users can to step into their newly designed rooms, even if they don't exist yet. All the work can be done virtually, making it easy for customers to access top designers, regardless of location.
Q: Please tell us a little bit about your background and how you started your company?
I worked in finance for the Canadian government and thought I had my ideal job. A little voice inside my head always told me to be an entrepreneur, but I was too comfortable and happy in my job to ever take the leap. I relocated for my then-husband's job to South Korea, where it was really a man's world. Most companies there don't trust foreigners (especially women) to work in finance. It was just the impetus I needed to begin my entrepreneurial journey, and Decorilla was born. I used the money from the sale of my Canadian home to start Decorilla and we have been growing and bringing new technologies on board ever since.
Q: What are some of the projects you are working on right now?

Currently, we are working on an office space in San Francisco for a startup company that is expanding. They wanted to incorporate multi-task areas, including a room for sales and a common lounge area for employees. The goal is to make it more functional while adding design elements that show the energy and spirit of the staff. Other projects include a rustic, industrial style restaurant and many residential spaces including a Moroccan themed living room.
Along with this, we are continuously working on forging relationships with other companies such as Etsy and BoConcept and collaborating in various ways, for instance through our exciting design sweepstakes, Wine, Dine & Design. Promotions such as this help us to leverage these partnership to reach a greater audience.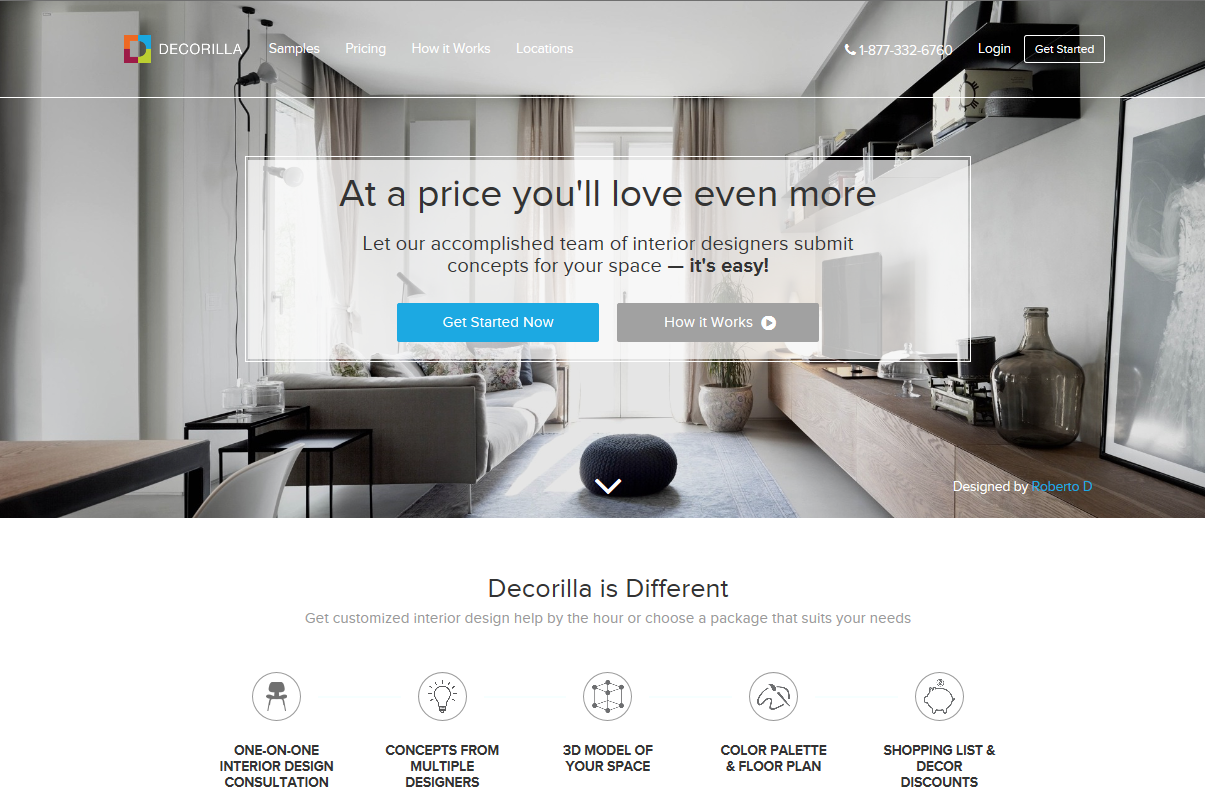 Q: What are your plans for the future, how do you plan to grow this company?

We currently offer in home services in 20 major cities across the US. Our goal is to expand both nationally and internationally, so that people can always have the option of online help or more comprehensive in-person assistance.
Technology has been a big contributor to our success. We want to keep it as our focus and continue to develop our platforms to better suit the needs of our clients. A recent example of this development is the launch of our new VR app through our partnership with AR Pandora. This technology provides a way for our customers to walk around a digital models of their interior design, so they really experience the potential design before committing to it.
Q: How do you bring ideas to life?

As a team we meet regularly to evaluate the progress of active projects, come up with solutions, and brainstorm new ideas. Each team member then shares their goals for the week, and plans to develop the new ideas we have discussed. Updates are sent to the team throughout the week, and we encourage everyone to share any feedback.
Q: What's one trend that really excites you?

Being an online company, we embrace the power of visualization. One trend that really excites us is the growing availability of virtual reality devices and software. We love how quickly this form of technology is evolving and how anyone with a regular smartphone can now have access to an immersive experience. For Decorilla, the ability to have our clients "step foot" into their designed spaces before they even exist is an incredible tool to give them confidence in their design.
Q: What were the top 3 mistakes you made starting your business and what did you learn from it?

I believe we would not be where we are now without the mistakes we have made and the valuable lessons we gained from these experiences. Nevertheless, there are some things we could have done differently:
Having too many part time staff members at first was really tough both for time coordination and commitment. If the option is available, having more full time team members is ideal.
Outsourcing website development at first turned out to be a mistake. We have found it's much better to have technical co-founders or employees in-house because they understand the problems better and can offer effective solutions. Changes and improvements can happen quicker in-house as well and that's important for startups.
Personally, I would not second guess myself as much and I would take compliments better. It's so easy to internalize negative comments, but we need to internalize the positive ones as well.
Q: How do you go about marketing your business, and what has been the most successful form of marketing for you?

Our most successful marketing has actually come through word of mouth and positive reviews. It's important to provide great service because positive word of mouth and great genuine reviews go a long way.
We have also been able to create and leverage some great strategic partnerships, with companies like Etsy, Club W, Hello Fresh and BoConcept through our periodic sweepstakes that allow for cross promotion.
Q: What would you say are the top 3 skills needed to be a successful entrepreneur – and why?

Patience – Building a great company takes time. Profits might not come overnight so it's important to be in it for the long run.
Motivation – Loving what you do this is the best fuel to keep you showing up everyday in the best way possible. Maintaining that drive includes creating goals and surrounding yourself with inspirational energy.
Trust – Since starting a business is a risky venture you have to have a lot of trust in yourself, trust in the product or service, and trust in your colleagues that they are always doing the best they can.
Q: What are the top 3 online tools and resources you're currently using to grow your company?
Yelp is a great platform for reviews, customers are honest and prospective clients are familiar with it and trust it.
Indeed makes recruitment much easier, allowing us to find and hire the very best candidates in the most efficient way.
Mailchimp helps us to create and analyze the success of our email newsletter campaigns.
Q: What are three books you recommend entrepreneurs to read?
Q: What is your favorite entrepreneurship quote?
"If opportunity doesn't knock, build a door" – Milton Berle
Q: How can our community get in touch with you?
We are reachable in many ways from our site email and toll free number found on the Decorilla homepage to comments made on social media. Find us on Facebook, Twitter and LinkedIn.